What residents want versus what's currently feasible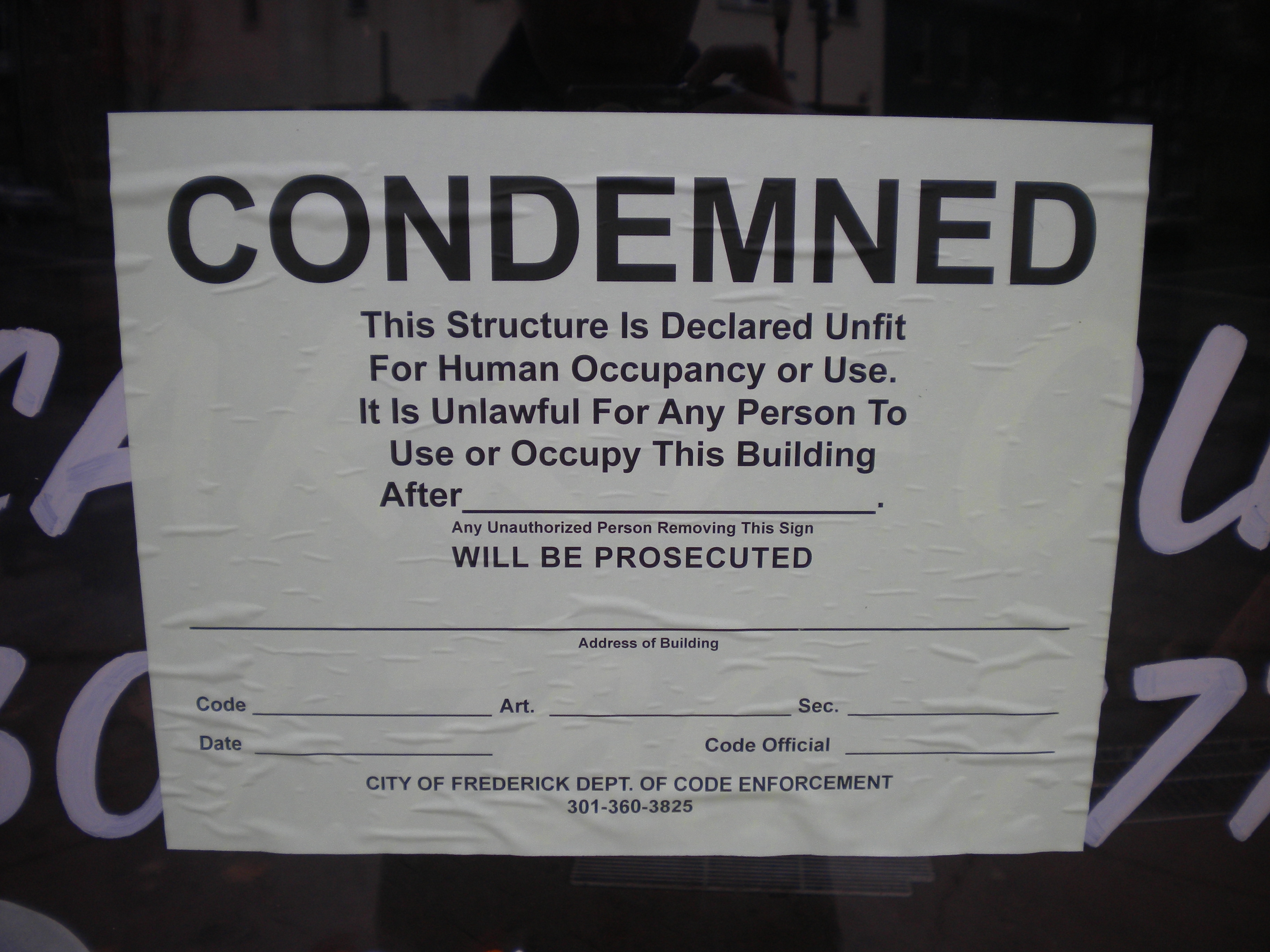 STORY AND PHOTOS BY CATHERINE COLLINS
The vacant properties in downtown Frederick have been of increasing concern to city leaders and residents alike.
While the most notorious empty building may be the former The Asiana restaurant, located at 123 N. Market St., the more recent vacancy of That Cuban Place, at 300 N. Market St., in April has brought more attention to these empty properties and what, if anything, can be done with them.
"We have a lot of people interested in opening businesses in downtown Frederick," Kara Norman, director of the Downtown Frederick Partnership, said. "There are a lot of opportunities for growth, but there need to be changes in those buildings to make them attractive to tenants."

The problem is that a number of the empty downtown properties have been cited with numerous code violations and are currently in no shape to house new tenants or businesses. Pictured is the condemnation notice posted on the front door of the former That Cuban Place, denoting that the building is a health and safety hazard.

"They are in a state of deterioration, and things need to be fixed, but are they viable properties? Absolutely," Dan Hoffman, manager of code enforcement for Frederick, said. "They could be the centerpiece of a revitalization of downtown."

According to an article in the Frederick News-Post, the property owner in Frederick City with the most code violations – and the one most well-known to downtown residents – is Duk Hee Ro, a Korean immigrant who owns the former That Cuban Place and The Asiana, in addition to seven other addresses on Market Street and others not located downtown.

Ro has been cited 63 times for code violations. The former That Cuban Place had been cited 17 times since 1999 and the former The Asiana has been empty for ten years, but perhaps the most scandalous incident was the discovery this summer of 13 inches of raw sewage in the basement of her property at 314 N. Market St.

Unfortunately, the city currently only has two ways of dealing with problems like this – co-compliance or eminent domain. With co-compliance, the city continually cites a property with violations, which are one by one addressed.

Code enforcement officials cannot just enter into a property without permission and an official complaint about a violation, so co-compliance can be relatively ineffective, and eminent domain is a tricky and controversial measure.

"At this point, there's a need for policy change," Norman said. "I can see how that might be frustrating for the community, but right now we don't have the right tools."

What Residents Think
"Either use it or lose it," Kristi Lane, 34, who has worked downtown for seven years, said. "The landlord needs to take care of it, or else it should be taken over."
But Ron Brady, 30, who is currently in the process of moving downtown, said that the city shouldn't play any role in managing properties.
"If they own the property, it's their responsibility," he said. "It's got to be the landlord."
Right now, that is how it works in Frederick. Ro, like any other landlord, is completely responsible for her properties, no matter how cluttered, unsanitary or even dangerous they may become.
"The Partnership has a limited number of tools available to deal with long-term vacancies," Norman said. "We are looking at incentives to push a property owner to move forward. We need to create something to push action."
Still, a number of residents think that at a certain point, this policy needs to be reevaluated.
"You would think that there are requirements for taking care of property. If they don't follow through with it, they should have their property taken away from them," Michelle Roberts, 26, a teacher at Thomas Johnson High School, said.
For Navit Mena, 21, a waitress who lives downtown, the point of no return should be when the property becomes a safety or health hazard.
"At the point that it's unsafe for people to be in the buildings, the government should take it over," she said.
Currently, properties are condemned when they become health hazards, and when the particular problem is fixed, the condemnation is lifted. That Cuban Place had been condemned for rotting support joints, but they have since been repaired. Similarly, The Asiana had been condemned for a water leak and for a collapsing doorway, but those problems were fixed as well.
Hoffman said that it's very "frustrating" to work under co-compliance, since it only addresses one problem at a time and is ultimately unproductive.
"The repairs are not enough for what the community wants to see," Norman said. "In the court of public opinion, nothing has really changed there.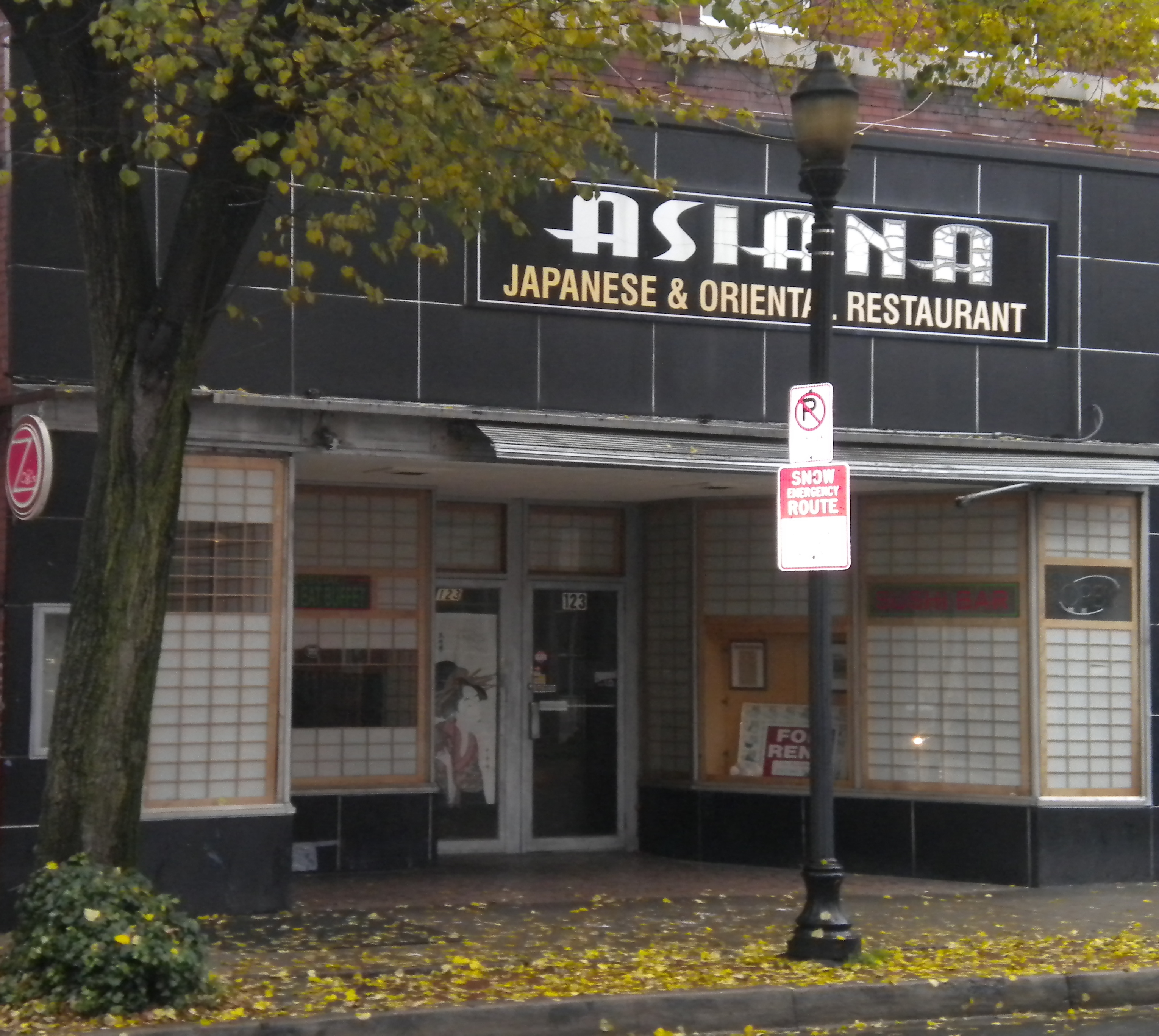 Above: The former The Asiana restaurant has been sitting empty for ten years. It is located in the midst of thriving businesses like Firestone's, The Tasting Room, VOLT, Brewers Alley and Acacia, and many residents see it as an eyesore.
Left: The Former That Cuban Place, which was condemned in June, sits on the corner of Market and East Third Streets.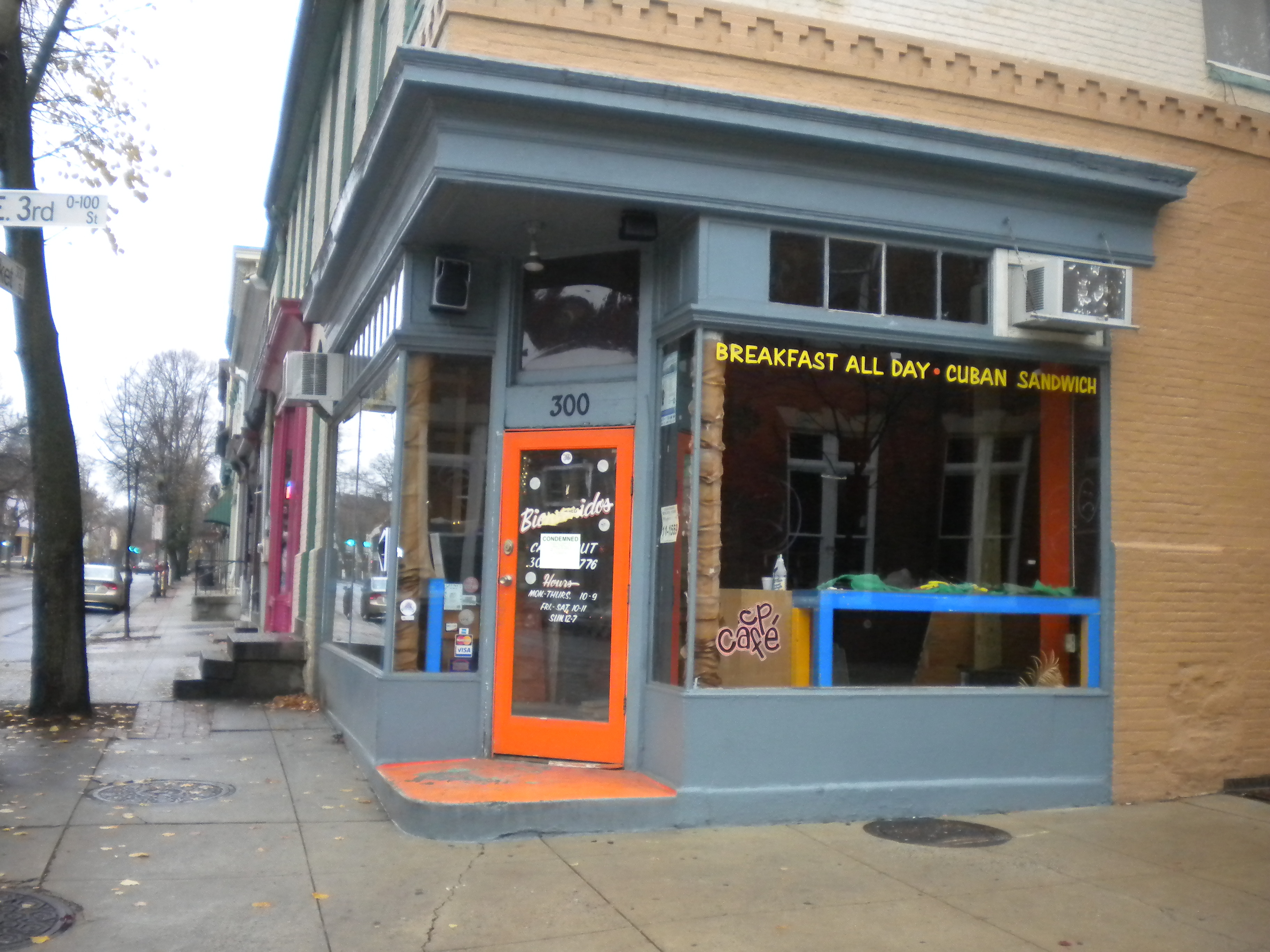 What Downtown Needs
Norman said that she hears the most from downtown residents about the former The Asiana, which is located right in the middle of the heart of downtown. People mostly present ideas for restaurants or jazz clubs, with apartments or businesses spaces above.
Norman added that people tend to want something independently owned as opposed to a chain. There are often requests for a hardware store or a grocery store.
"It's such a cool building, and it's huge," Lane said of The Asiana location. "It's too big not to have anything there. It's ridiculous. Something can go there. I've lived here for seven years, and I keep thinking, what are they going to put there?"
In addition to the location of The Asiana, though, residents often show concern about the vacancies on the 300 and 400 blocks of Market Street, which some see as eyesores.
"I think it looks really bad when tourists come to town," Mena, who lives on the 300 block of Market Street, said. "People come to Third and Fourth streets and then turn around."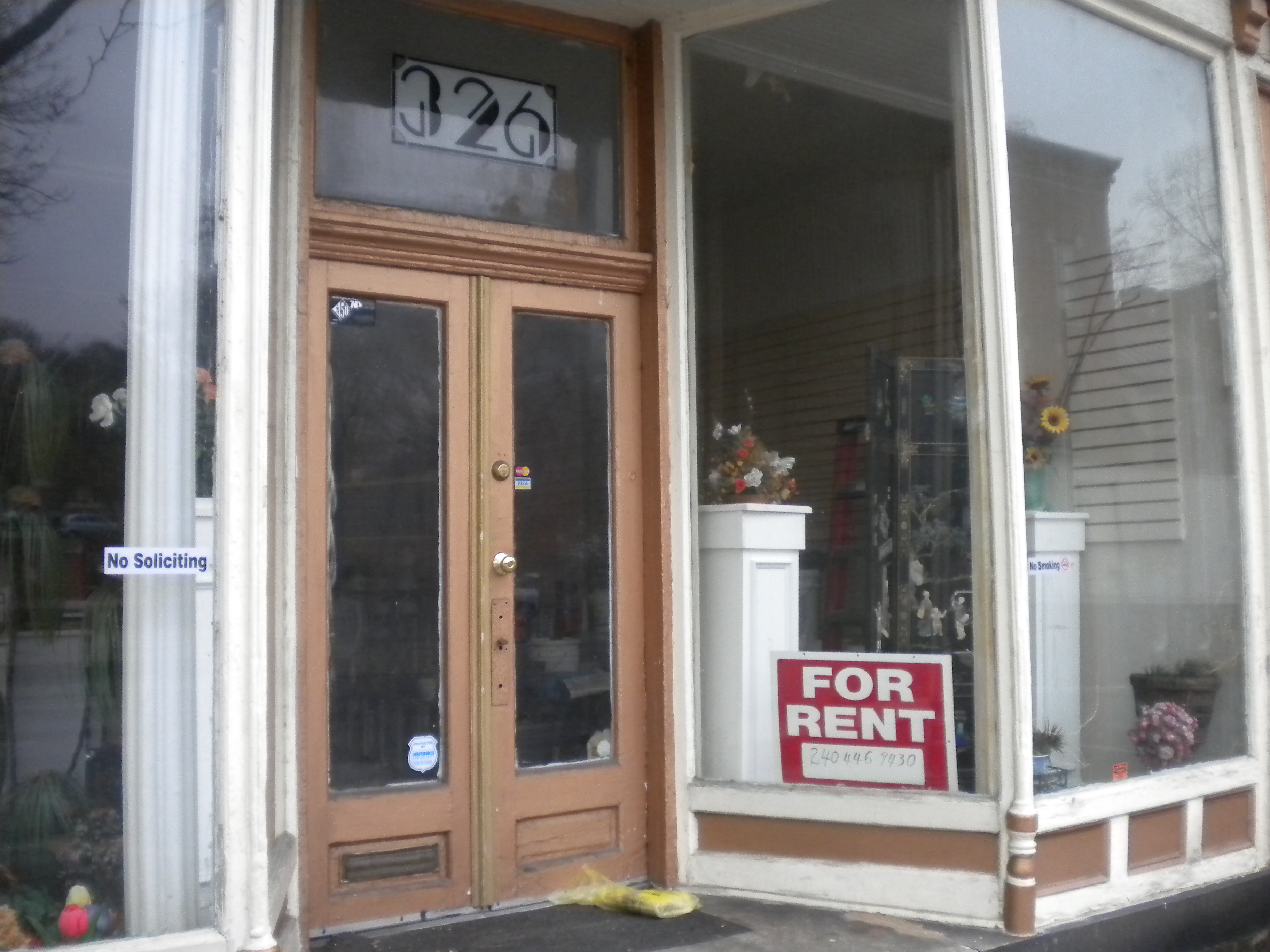 Many residents agree that a grocery store would be best for downtown residents.
"Maybe it could offer local food," Lane said.
Erich Frank, 23, a bartender downtown, agreed that a food market would be ideal.
"If I want to go out and buy a fresh baguette or fresh fish, there's basically nowhere I can go," he said.
But for Dave Littrell, 54, who has worked downtown for nine years, there's only one business he wants to see.
"We need a bookstore," he said. "I need to buy able to buy books downtown. I don't mind having to go get groceries, but I want to go out and be able to buy a book."
One of Norman's own ideas, which was considered several years ago, is to turn one of the double storefront buildings on the Third Street block into a live/work art space, where there would be a gallery on the first floor and living space on the top three floors.
Ideally, Norman would like to work with Hood College's art department to feature work by art students and maybe even provide off-campus housing in the building.
"Having a Hood outpost downtown would be fantastic," she said.
Until the city adopts a new and more effective way of dealing with empty properties, however, these ideas will remain just that – ideas.

Norman said that the Partnership has been looking at other tools to deal with long-term vacancies. For example, it has been considering the receivership policy, in which a property is either sold, demolished, or rehabilitated. In Baltimore, the receivership approach is used when the government designates certain vacancies as "nuisance properties" and then transfers those properties to nonprofits.
"The job of government is to protect the citizens," Hoffman said. "When you have floors collapsing and properties becoming health and safety hazards, something needs to change."