Unexpected Career Blossoms
By Jordan Knight
For The Frederick News-Post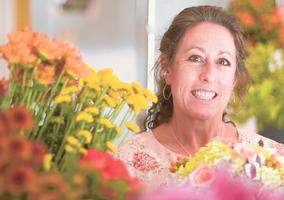 Photo by Graham Cullen
Florist Lisa Monday is owner and designer of An Elegant Affair, which is on the grounds of Morningside Inn near Mount Pleasant.
Editor's note: Slice of Life features will be written by Hood College journalism students throughout the month.
Lisa Monday always thought she had a rosy future, but she didn't know it would be in flowers.
Before she discovered her career, Monday went to school with her mind set on training exotic animals. She soon learned she needed to find a new interest.
"There's no money in training exotic animals, and I didn't like how some of them were being treated, so I just couldn't do it," she said.
Monday, 52, was born in Southern California and also lived in the northern part of the state. After she married, she moved to Idaho, where her husband was in school.
She started designing floral arrangements at a Safeway in Idaho 15 years ago. That was the beginning of her career and passion.
After four years in Idaho, she moved to Germantown. She worked at Beall's Florist for five years, and then at Gene's Florist, both in Montgomery County.
Monday then decided it was time to open her own business. Her shop, An Elegant Affair, is on McKaig Road near Mount Pleasant.
"It is very time-consuming managing my own business because I do everything. But I love it, so I don't mind the long hours," she said.
She has one employee, former co-worker Karen Crum, 20.
The shop is on the grounds of the Morningside Inn, a wedding and event venue and conference center. An Elegant Affair produces arrangements for events held there and for customers in the Frederick area, northern Virginia and Washington.
Monday said she makes arrangements for weddings and special events as well as table arrangements.
She entered the Not So Big Wedding Challenge 2010 sponsored by the Not So Big Wedding Boutique, part of a bridal exposition in Montgomery County. The challenge was to spend $15,000 for a wedding with 65 guests. The budget included food, decorations, flowers, champagne, music, photography, tips and taxes.
Team Cinful, including Monday, won first place.
"I've always enjoyed the outdoors, and this is my way of being able to bring the beauty of it inside for people to enjoy," she said. "I believe God gave me a gift and I want to share that gift with others."
When not working in her shop, Monday enjoys the outdoors and teaching adults and children to ride bikes at Recreational Equipment Inc. in Rockville.