BY LAURA LOKEY
Running for State Senate, the House of Delegates, county executive, and Board of Education, Young has become a household name in the Frederick community.
As the elections have come and gone, it appears that the Young family has stuck together in campaigning, attending one another's celebrations Tuesday night, Nov. 4. Politics are nothing new to this Frederick native family.
This November Karen Young, was elected into the House of Delegates, as a Democrat. Blaine Young ran for county executive as a Republican, but fell short. Brad Young was reelected to the Frederick County school board.
The start of a family dynasty.
Ronald N. Young ran for mayor in 1973, and took office in 1974 after defeating former serving mayor Donald B. Rice. Young was reelected as mayor in 1977, 1981, and again in 1985. Ronald Young was later elected into the Maryland state after defeating opponents in November 2010. He ran for reelection in the 2014 election and took another victory.
"After I was elected I spent the next 16 years as mayor, and I turned the town around," said Ron Young, of starting his political dynasty. "It wasn't anything family related." The Frederick native explained that he grew up very poor, unable to afford a $6 membership to the YMCA downtown. Because he was unable to afford the fees, Young would hang out in the lobby of the Y.
"They gave me a membership and it turns out when I got elected to Board of Aldermen, the one guy that got elected the same time as I did was the guy that gave me a scholarship when I was a kid to the Y," Young explains. "There wasn't anything I could ever do for him, but you know to pass it forward I could do something for someone else, and hopefully one day they would do the same. I'm just a real big believer in that. I can't believe how many people get help, and then think they did it themselves."
Keeping it all in the family: a family affair.

Ron Young gave his boys only few bits of advice when they were growing up, one of which was: "give back to your community and be involved."
"I wasn't necessarily thinking running for office," Ron said jokingly, after explaining his fatherly advice.
Young is a proud father as he talks of all his sons have accomplished. His oldest son, Brian, served a term as vice chair of the Democratic Central Committee, before deciding to leave politics. Blaine and Brad got involved in the community as politicians and have each held offices over the years.
"Alex hasn't run for anything—he may one day, we'll see," Ron said of his youngest son. "He's a real good- hearted guy and well liked."
The Young family has been referred to as a 'dynasty' and 'the Kennedy's of Frederick' for being highly involved and powerful in the community.
"I try to get along with everyone while staying true to my principles, it makes life better. As a family we believe strongly in community service and while each of us are our own person, we love our community," Brad Young said. "We hope our kids will feel the same. So I wouldn't rule a future with Youngs in office out just yet."
Brad Young was first elected into office for the Board of Education in Frederick County in 2010.
"My primary objectives were to make the budget more clear and to get rid of some policies that I thought had adversely affected certain people. We accomplished both of those missions in the last four years," Young said of his first term on the board. "I plan to continue to work hard to keep Frederick a great educational system. I will fight unfunded state and federal mandates. I can't speak for the others but they each have websites with their views."
Is there too much power in the Young name?
The Young family has dealt with the critical view of too much power in Frederick County from some, while others criticize that their family power as not being resourcefully used.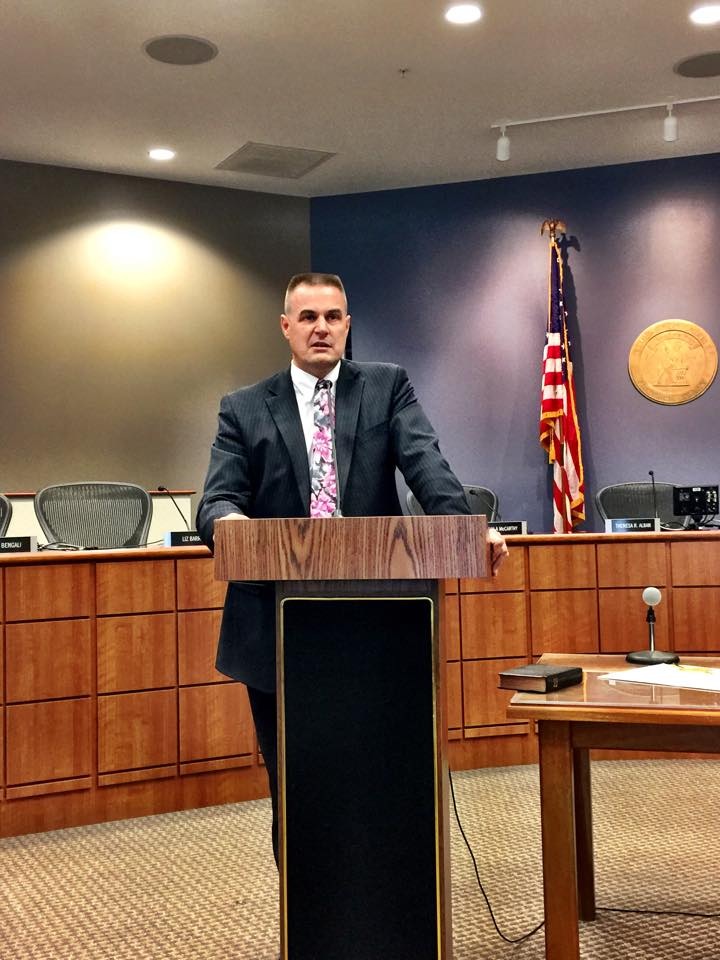 "Everybody has critics and I probably have the uniqueness of having a brother who is on the Board of County Commissioners — and we are primarily funded and half our budget is funded by the Board of County Commissioners. They haven't in this four year term given us any increases in funding. And I've tried to deal with that as best I can. So some people want to criticize me for being related to him, and us not getting additional funding, but my point is I don't have any control over that. I have to do with what we were given," Brad continued. "And I would hope that then again people can see that I'm independent from him and that I have my own views. We agree a lot of the times, but sometimes we don't agree."
It is not all smooth sailing for the picture perfect political family.
Politics and family dynamics can create tension or strength. Karen Young, wife of Ron Young and new member of the House of Delegates, sees a positive and negative side to their well-known name.
"The positive is name recognition. The negative is a perception of a dynasty," Karen said.
Her husband agreed, jokingly saying, "There are people who think we get together at midnight and plan what's going to happen, and there's nothing farther from the truth than that. We're each independent and each do our own thing. I don't try to influence them, and they don't try to influence me. My wife and I talk about some things, and we're generally on the same page—not 100%."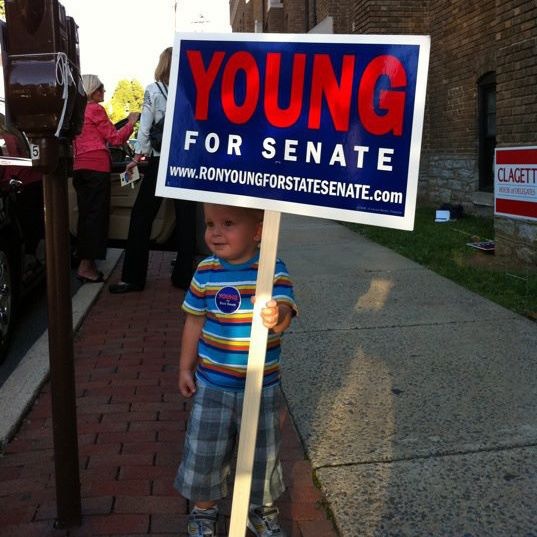 Though most of the family is close, tension is present between Ron's wife and son, Blaine. Karen and Blaine do not speak to one another.
"Blaine and my wife do not have a good relationship at all. It was Blaine's fault, but now she's as strong about it as he is," Ron explained.
"A few years ago Blaine was very critical of his father on the radio and I thought that was in very bad taste. Moreover, he endorsed his father's opponent in 2010," Karen said of her fall out with Blaine. I believe that, if a member of your immediate family runs for office, and you can't endorse them, you should remain neutral. However, politics has nothing to do with our relationship."
Ron explained that Blaine is a competitor. He roots his son's passive aggressive anger and competitiveness towards him to Ron's divorce with his first wife back when Blaine was thirteen.
"It made him really angry and he shut me out. I would try to do things with him, but he wanted nothing to do with me," Ron said. "I think in some subconscious way, he's been trying to prove himself now and that's why he is the way he is."
The black sheep of the family.
Blaine Young is known for his harsh bluntness, which differs greatly from his brothers and father, both in and out of the political world. Blaine credits his mother for this characteristic.
"Some people like it, and some people don't," Blaine said.
Being the sole Republican, while his brothers and father are Democratic, Blaine does not feel this makes him an outcast to the family.
"My mother and wife are Republicans," Blaine explains. "I consider myself the only and first Young to be elected as a Republican. I help get the Republican Party to endorse and support Brad, which helped him in his re-election."
"I have no desire to compete with my boys. I want them to do the best they can and succeed at everything they do," Ron said. "As for Blaine, right now we are good and we have an understanding of keeping politics separate from our relationship. I'd like it to stay that way. I only wish for the best."