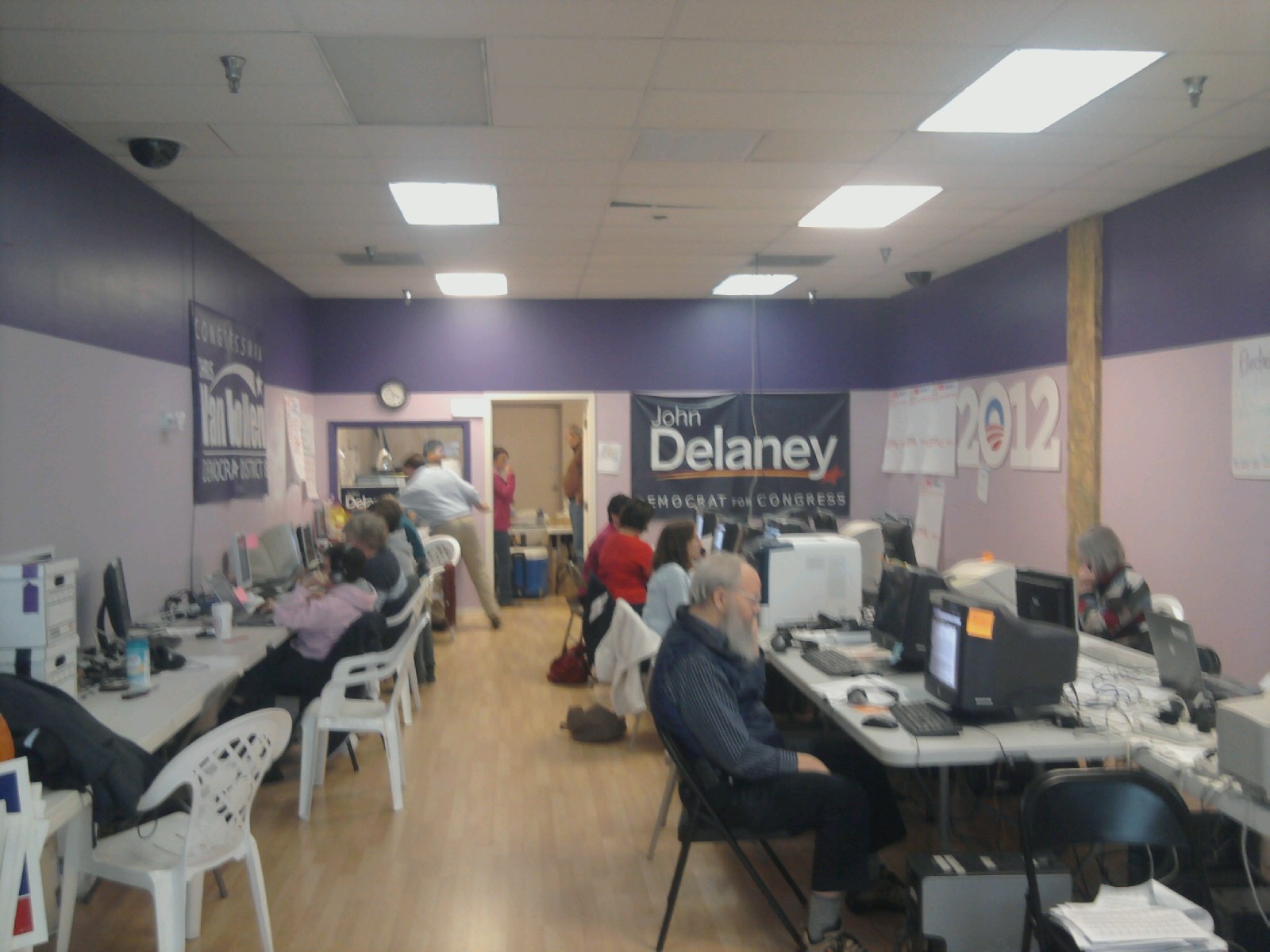 No one could miss Suite 14 in the days leading up to the 2012 election. Home of the Frederick Democratic Headquarters in the Evergreen Shopping Plaza, the windows were covered in campaign signs for every elected office from the School Board to the President, with barely an inch of empty space.
For those who stepped inside, it was buzzing with volunteers eager to help the Democratic effort. Volunteers called citizens from more than 20 computers while others went back and forth from canvassing trips to nearby neighborhoods.

While many helped the President Obama campaign, others focused on the local campaign for John Delaney, the Democratic candidate for Maryland's 6th District. Delaney faced an uphill battle – he was a first-time candidate running against Republican Roscoe Bartlett, a veteran of Congress for 20 years.

John Delaney would go on to win the election by an impressive 58-39 margin, boosted by his volunteers, who helped to earn support and mobilize voters in Western Maryland, Frederick County and Montgomery County.
  Erik Rettig, field manager for the Frederick region of the Delaney campaign, made building a strong volunteer base a top priority. Whenever someone walked into the office, whether just to pick up a sign or ask a question, he would always see if he or she was interested in volunteering.
Rettig, as well as campaign staff at offices in Gaithersburg and Hagerstown, recruited volunteers to participate in phone banks and canvassing.

"All of those phone calls truly helped – especially in Frederick County and Western Maryland where John [Delaney] was less known, compared to Bartlett who has been their congressman for 20 years," said Rettig.
The Delaney campaign brought in a variety of volunteers, ranging from high school and college students to long-time volunteers for the Democratic Party.
Alex Vold, a Hood College junior who was an intern for the campaign said, "I've always been politically active, but this is the first time I've volunteered. It's very rewarding, you get to meet a lot of new people and have the chance to make a difference."

Vold made phone calls during the week and canvassed on the weekends.
"I usually prefer canvassing because I like talking to voters face-to-face," Vold said. "But when you make calls, you never know who you will get on the other end."
One particular phone call was his favorite memory of the campaign.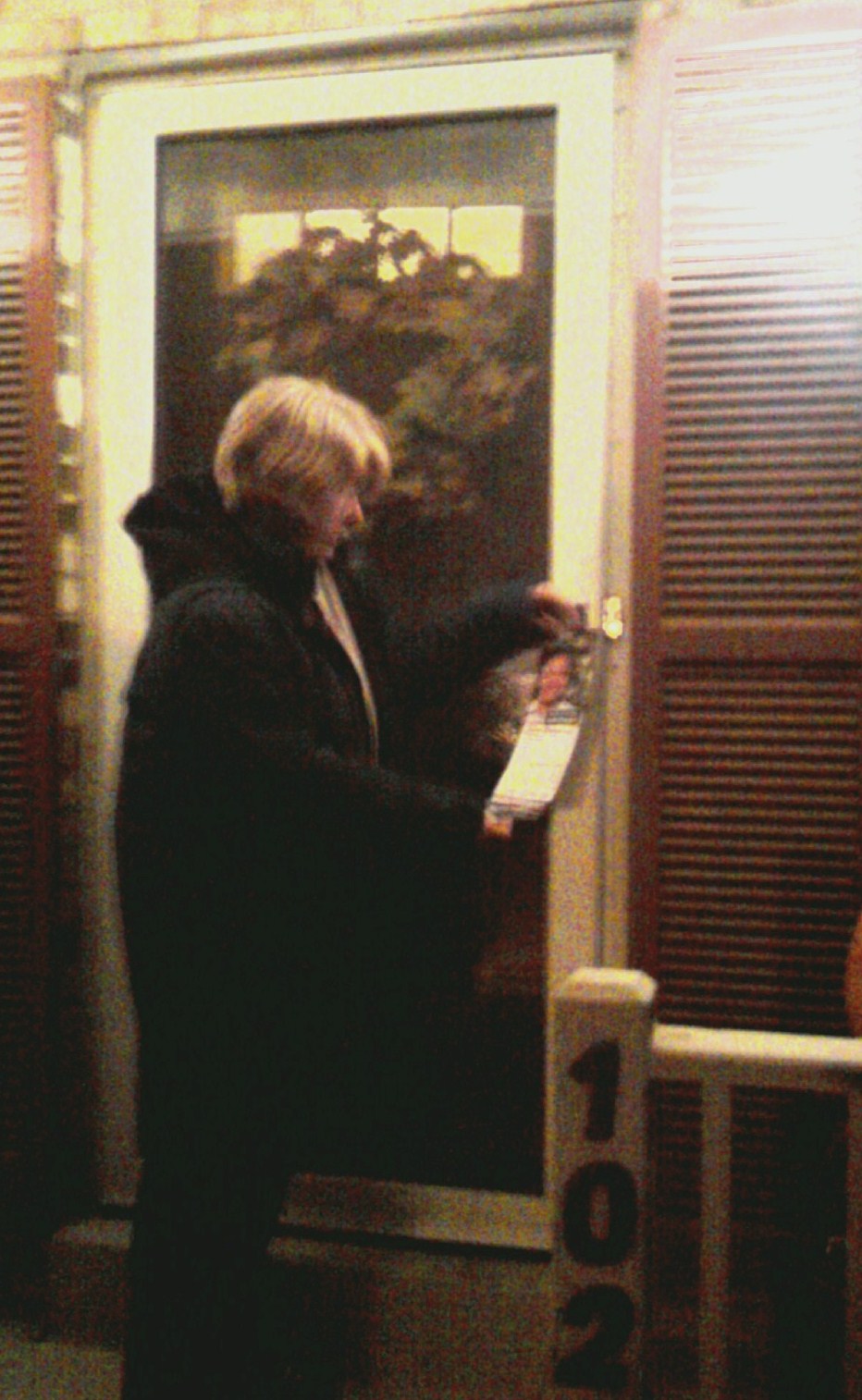 "I talked to Phil Briggs from the morning show on the radio station 106.9 The Eagle for about a half an hour," said Vold. "It was neat to talk to a local celebrity."
Joan Leuthner, 59, of Myersville, Md., first volunteered when she campaigned for Democrat George McGovern in the 1972 Presidential Election. This year she participated in the Delaney campaign's Get out the Vote effort in the final four days prior to the election. She canvassed at neighborhoods, making sure supporters knew their polling locations by either talking to them or leaving hangers at doors.
"I've always liked meeting and talking to potential voters and hearing their opinions. I was gratified to find that there was a lot of interest in the election this year – many I spoke to had voted early," said Leuthner.
The campaign was able to attract the interest of volunteers because the district was finally in play for Democrats due to redistricting by the Maryland State Legislature in 2010. The new boundaries were drawn to include segments of western and northern Montgomery County, including Potomac and Gaithersburg, which are heavily-Democratic areas.
This meant that a district that Bartlett used to win easily was now going to be a close race and volunteers felt they could actually help swing the district to the Democrats.
Vold said, "I was very excited when I heard that we had a chance to get Bartlett out. It was very personal to me; I wanted to be a part of it."

The Frederick Headquarters also served as a coordinated campaign for other Democrats running for office including the Congressman Chris Van Hollen of the 8th District, Senator Ben Cardin and President Obama.
All the campaigns shared resources – in particular, the donated computers that were built from spare parts. Often in the evenings every computer was filled with those making calls to Virginia for President Obama side by side with those calling locally for Delaney.
The enthusiasm for President Obama carried over to John Delaney, for some volunteers decided to participate in both campaigns, which was easy with the coordinated effort.

Bonita Currey, a member of the Democratic Central Committee said, "I've largely been working with the Obama people, but I wanted to chip in and make a few calls for Delaney as well." Also, when making phone calls to identify supporters, Delaney volunteers asked additional questions to see if constituents supported President Obama and Senator Cardin.
"We all have one goal: to make this country less red and more blue. This starts at the district level and goes all the way up to the presidency," said Rettig.
The phone banks included identification calls to both registered Democrats and undecided voters, as well as calls to encourage voters to attend Delaney events held throughout the campaign including barbecues, house parties and special events such as a Women for Delaney fundraiser which featured Senator Barbara Mikulski.
Canvassing was held on the weekends, where volunteers headed to neighborhoods of potential supporters. Then, in the final four days before the election, the campaign started their Get out the Vote effort which included phone banks and canvassing to make sure voters knew their polling locations.

"Back when I first volunteered, we just knocked on doors not knowing who the voters were. Now, it is much more sophisticated, we have all this information about the voters – we target those who we know will likely support us," said Leuthner.
On Election Day, volunteers helped deliver signs, watched polls and handed out literature at polling places.

The importance of volunteers was not lost on new Congressman John Delaney. He was at the opening of the Frederick office in order to encourage volunteers, saying that he was only going to win with their help. Then, in the final days of the campaign, he came by multiple times to thank volunteers, even bringing pizza for lunch.
It turned out that the work of the volunteers paid off. In an election that was supposed to be extremely close – The Baltimore Sun only had Delaney up by a single point just a week before Election Day – Delaney ended up winning in a landslide.