Each year the beauty industry creates new trends for people to follow or for them to create their own, but that will not stop the $426 billion that is spent on makeup, nail, and hair trends. As each season changes, so do the trends in the beauty industry.
Being a stylist in these fields requires that they take classes to refresh their techniques that come with the current trends. Victoria Corrigan, a hair stylist at Bella Locks Salon in Elsmere, Del., has graduated from Paul Mitchell School three years ago and in order for her to stay up with the trends, she must continue her education.
Holiday Colors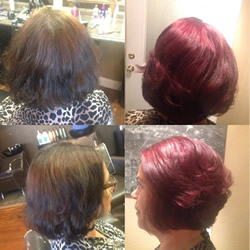 "The classes come in stages," says Corrigan. "You go in with an idea of what you are doing and then you come out with a slew of new techniques for how to create these looks on your clients. Color is one of my specialties and now it has been utilized more by my clients."
A current trend for hair color is coloring your hair a natural shade but the hue to it is of an unnatural tint. There are many celebrities that are doing this such as Demi Lovato and Ariana Grade, who has more of a deep plum shade instead of the in your face red like Rihanna. This color is popular for the holiday season.
"It is a color that is different from the dark shade of brown and it is similar to a jewel tone which is always pleasant in the holiday season. They are flattering colors that make the individual person standout against the winter and fall hues," says Corrigan.
Holiday Haircuts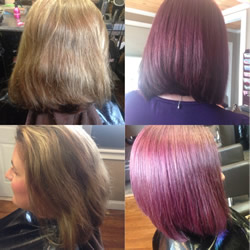 Along with the color comes a new array of haircuts and Lisa Varone, the owner of Bella Lock's Salon, has many new styles under her belt. One trend that has been popular with many clients is 'lob' also known as the long bob.
"This cut is somewhat hard to do because you have to make sure that the length is not too long," says Varone. "It needs to be somewhere between a bob and a medium length haircut."
There are challenges with every haircut as each hair type is different. Not every haircut will look the same time, but the style is always fundamentally the same.
Holiday Hairstyles
Instead of cutting or coloring your hair, there are other options to create some great holiday looks. Simple hairstyles that change your look from casual holiday dinner to extravagant holiday celebration include various types of braiding, curls, and even the use of accessories.
"A great way to achieve the 'lob' look without cutting your hair is to pin your hair up to achieve a bob," says Corrigan. "This is a great style that can be achieved for the holidays when you are sitting by the fireplace because it helps give your body extra ventilation through an exposed neck, making it great throughout the entire holiday season."
"Another hairstyle that is expected to become popular for this holiday season is a large barrel curl that is swept to one side in a pin-up style," continues Corrigan. "This style is for more of an elegant holiday party but if you want to take it from elegant to casual, simply put it into a side ponytail."
Instead of paying for someone to do your hair for you on the holiday season, there are still some styles that can be accomplished without drastic changes to your natural hair.
Rowela Silvestre, a senior at Hood College, incorporates a new hairstyle every day. "Taking something simple and transforming it into something polished and professional is what I like to do with my hair."
She has also been known to help many students with taming their hair into something manageable and creative. She has learned these hair tricks by letting her sisters play with her hair when she was growing up. Now she takes what she learned and applies it to her friends, making them different styles for every occasion.
"For the holidays, I see a lot of curls and braids in the form of a headband. Lots of loose, large barrel curls framing the face in particular," says Silvestre. "In past years there were a lot of tight curls or straightened hair, but this year I think the opposite will be happening with the holiday season."
Holiday Nails
Hair is just one of aspects of the beauty industry, and so are nails. Recent fads in nails range from painting one nail a different color, using a matte topcoat, and geometric designs.
Not all trends are for all of the seasons, however with the holidays coming up "geometric designs with jewel tone polish combined with a metallic and glitter nail polish make for a great design," says Danielle Acosta, a student at Paul Mitchell.
"For those formal holiday occasions a French manicure is always the go to, however for a change up change the color of the French manicure tip to a lovely color such as a metallic cooper, plum, or a glitter red."
Although the matte topcoat has not been used for the holiday season, she expects that people will stick with the norm and decide to have their nails as shiny as their ornaments.
Holiday Makeup
Hair and nails only cover two aspects of the beauty industry, as previously discussed, makeup is another aspect for this industry.
Even thought people might want their nails to be as shiny as their ornaments, that doesn't mean that their faces will need to be for the holiday season.
Jess Dosey, a freelance makeup artist in the Wilmington area, has her predictions of what the holiday season will bring in terms of the makeup. She sees lots of neutral palates for the holidays.
"Neutrals always provide a fresh faced look and with more of a brown palate, there are ways to customize it for each face and bring out specific highlights for every set of eyes."
Another thing that Dosey predicts is that the full-face contour will become more publically visible and, "with the winter coming I see more play with the shadows and the highlights because of the overcast that will most likely happen due to the snow."
Doesy concludes, "With the changes in the trends for this winter holiday season, it just makes me excited for the trends for this spring season as well."