For Hood College students who venture off campus, downtown Frederick offers a variety of places to shop and dine a few walkable blocks away.
Locally owned places with college budget-friendly options include Cakes to Die For, The Curious Iguana and The Dancing Bear Toys and Gifts.
At 15 E Patrick St., visiting the Dancing Bear toy store is an energizing start to any day downtown.
Michael Fratina, a Hood senior and sales associate at Dancing Bear, said he often sees Hood students and other young people who frequent the store.
While high school students generally do not want to be in a kids' atmosphere, college students and young people love the chance to play with everything, Fratina said. His goal is to treat "everyone like they're eager," and then they become eager to be there. The interactive quality of the store is a big draw, he said.
The store offers a variety of lesser-known games and toys, but Fratina believes the number of open products bring much of the attention to the Dancing Bear. There are always demos out and employees are available to assist customers with the games and explain them, he said.
Dancing Bear's inventory is restocked regularly, so there are new options for customers to explore each visit. The location near many restaurants also helps to keep traffic, Fratina said.
Customers can find many toys and games for around $15-$20.
After spending hours playing with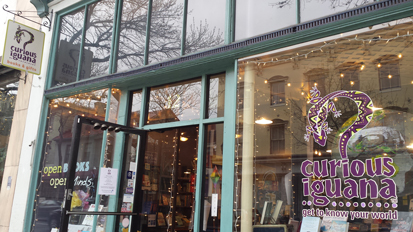 childhood toys, it is good to unwind. Around the corner from Dancing Bear is The Curious Iguana, 12 N Market St. The bookstore is owned by the same Hood alumni as Dancing Bear, according to Curious Iguana manager, and fellow alum, Lauren Fairley.
A cozy store, Curious Iguana offers books from best-seller lists to independent authors. Their children's selection is also popular, Fairley said.
As with Dancing Bear, Curious Iguana serves as an alternative to any chain bookstores, and then people feel good to support local businesses.
The store has a loyal base of both locals and regular out-of-town visitors, Fairley said.
"We're always trying to get stuff that interest the local demographic," she said.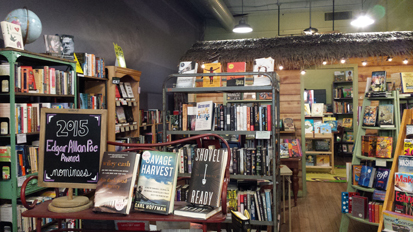 Students are free to browse everywhere around the store and ask her for any advice or recommendations. Curious Iguana works with Hood, and a business class visited recently to learn about running small businesses, Fairley said. The store is also a visit during the freshman orientation tour of downtown.
"It helps that we're all Hood College alumni here, so we know how it is."
Small bookstores are making a comeback after the demand of electronic readers has started to plateau, she said. While Curious Iguana is one of only a handful of independent bookstores in Maryland, popularity is rising in the region, Fairley said.
Fairley can order any book "as long as it's still in print," and Curious Iguana usually receives deliveries after two days, she said. The store's hardback books average around $25 and the paperbacks around $15. Some "odds and ends" finds can be purchased for only $5.
"I can always find something new to read," said Bre Harwood, a junior. Harwood visits downtown about twice a week and visits Curious Iguana often, she said. The variety of books and their contribution to the Frederick community is a draw for her.
Down the street at 154 N. Market St. is the recent bakery, Cakes to Die For. Owned by 21-year-old Lucie Shelton, Cakes is macabre and the delivery vehicle is a hearse, Shelton's first car. Though she has had her business title since she was 15, the storefront has been open for about 18 months.
"People come to us for the more gothic and horror c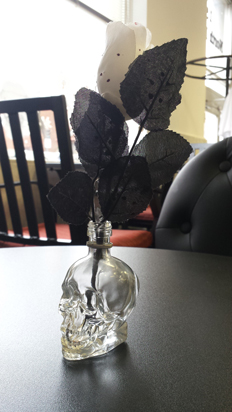 akes," Shelton said. In complete opposite, they also make many cakes for cute baby showers and anniversaries, she added. People do not put them in one category, which helps business, she said.
Shelton said she hires a variety of employees so customers will not be uncomfortable walking into the store. High school and college students visit, then come back with their parents and grandparents, she said.
Harwood visited Cakes when they first opened last March. She had visited every other cupcake place downtown, and naturally had to try out the newest place. The current cupcake hype is leading to many people trying local bakeries, she said.
Shelton credits the success of Cakes to them providing many baked goods without people having to make them themselves.
One of their most popular cupcakes is red velvet with "blood splatter" in the icing. While the cupcake represents the horror theme of the business, customers find the home-style comforting and like that they know exactly what they are getting, Shelton said.
Cupcakes are $2.50 and other pastries range from $2.50-$4.
A major factor for the popularity of downtown Frederick is the ever-changing options customers have within their places for entertainment, or to shop or eat. Those behind the promotion of downtown are members of the nonprofit Downtown Frederick Partnership agency.
While property owners control which businesses move in and out, the Partnership is in charge of getting people to want to visit downtown and keep those businesses going, according to Steven Colella, a former promotion and events manager with the Partnership.
Hood College's and other local students are important for downtown because the schools are great partners for the Partnership and the organization has a "rotating base" of interns for maximum productivity, Colella said.
Just as importantly, the presence of college students and the 21-35 demographic creates a trendy and enjoyable atmosphere, he said.
While downtown has several higher-end shops and restaurants, college students can still either visit them or stay at locations closer to their budgets. One does not have to purchase the most expensive items in a store or order the fanciest options on a menu to experience a place.
"This atmosphere draws more residents, which draws more businesses, which turns into a cycle of growth for the city," Colella said.