Women's Nike Free Runs 3.0
Thought: 2.7 miles into this damn run. Only 2.7 miles into this thing and my shins might be ready to crack right down the center. My slightly swollen left ankle's feeling it, too. Action: 2.75 miles into the same run and here I am. My knees have now given out and I'm sitting here collapsed on top of a rock on the side of the road in the middle of a trail through some off-the-grid woods. I look down to the ground and what do you think I see? I'm not talking about the bushes, or the pasty mud thickened by drier conditions, or fallen petals from the cherry blossom tree. I'm talking about my shoes. Thanks Mizuno.

That was six months ago. Five months and 29 days ago, I'm in the Frederick Footlocker looking for replacements. It was time. I had tried them all: Asics, Mizunos, Adidas, Under Armour, traditional Nikes. Some were better than others, but nothing note-worthy for a serious runner.
While on the phone with a good friend of mine, I asked for her expertise. You see, she's a division one college track star who runs. And runs. And just when you think she's all out of fuel and her electrolytes are nonexistent, runs some more. And you know how sometimes a person might sleep walk? She actually sleep runs. I've seen it.

"Get the Mizunos," she said.

"They'll be wonderful," she said.

Who could have possibly guessed that one short month later she would be out for the season with some sort of injury called some fancy medical term, compiled of a seven-part suffix or of 12 syllables, that all essentially add up to worn down knee cartilage and strained ankle tendons? I could have. Back to square one.

A few days later, I decided I would cave. I would give into the advice of the demographic "desperate wannabe runners:" the ones who post "So sweaty and tired but what a great day for a run!" so that people read it and think they're so active, but who actually run .5 miles a week and call themselves runners. They all swear by the same shoe, and at this point I had no reason to negate their preference. I was now part of the desperate shoe-finder demographic. My concern was with anything but prices or appearance.

"Nike Free Runs," they said.

"The best shoe in the world," they all said.

And they were right. For roughly the same price as any other brand running shoe, Nike Free Runs quality sets the bar. I went with the Free Run 3.0. Nike offered 5.0, 4.0 and 3.0. The lower the number, the lower the sole is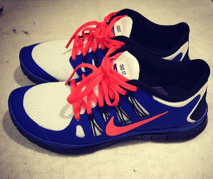 to the ground—which means a more flexible outsole—which means a more natural stride—which means a better run, even for people like me who prefer the rocky terrain of a forest trail to the steady manual control of a treadmill. I've worn them through woods, over concrete, even on that treadmill, through some grass, and on top of wooden boards at the beach. Guess what? No shin splints, no swelling, and no knees have given out. Not once.

Free Runs are so light-weight, between roughly five and seven ounces, that they share the comfort level of a bare foot while cushioning and protecting with the same support of a traditional shoe. The edge, along with the arch, of your foot feels no shock from the impact.

They're great for walking, running, and stationary exercise, but not necessarily for plyometric use. To be fair, it says it in the name: "Free Runs," not Free Jumps. The only time you should not rely on Nike's best shoe is during sports involving high impact from jumping, such as basketball or volleyball.

No matter how much you use them, the shoes wear in very little. So far, I've ran roughly 500 miles in mine and visually, the only fault is a slight deterioration of the vibrant color on the very front tip. Physically, they're comfortable as ever with no detection of wearing down. Fortunately, Nike offers the option of a rain guard to protect the outside of the shoe for a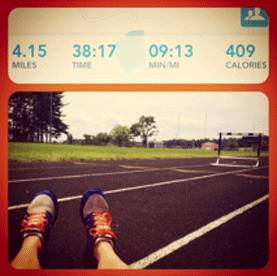 small extra cost if you prefer to run outside.

Not to mention, they fit like a glove. If you order your normal size, they may be difficult to get on at first, but once they're on the fit is flawless. If that irritates you, buy a half size up. Speaking of size, working hard makes for some serious odor. Good thing you can throw your shoes in the washer and dryer without fear of shrinkage. I've done it several times and they still hug my feet perfectly.

Free Runs aren't just for those of us who care about the health of our feet and joints. Those of you who buy running shoes to look good, Nike has you covered. Nike ID provides its customers with the option to design their own shoes, allowing free-range of style and color of each individual part of the shoe. My bright orange swoosh contrasts my royal blue base so I can look good even while I'm dripping sweat. When I have on my Free Runs, no one's looking at my face anyway. They're looking at my feet.

Now, the only reason you'll find my sitting on a rock is to enjoy the back-road scenery around me when my run is complete. Today, I ran 6.5 miles straight. My shin splints are nonexistent. My ankles don't swell, and my knees are solid. Next time you're looking to buy running shoes, don't take your track-star friend's word for it. Take mine. Dish out the cash you would spend on shoes that don't work and buy Nike Free Runs. Just do it.