Flavors of the Holidays
We've set back our clocks, broken out the over-sized sweaters, and sparked up the living room fireplace. Fall traditions have officially been broken in. On your afternoon walk through town, filled with the soundtrack of warm-toned leaves crunching under your boots, you pass a window on your right with a coffee mug painted in the center with the unmistakable letters "PSL" written underneath (pumpkin spice latte), while the window to your left is inviting you in with baked goods on the other side of the glass; you enter the first shop and the aroma of holidays consolidates the season's arrival.

Companies throughout the Frederick area are preparing for the chilly weather and their customers' biggest cravings: the cool peppermint of winter or the warm pumpkin and caramel of fall.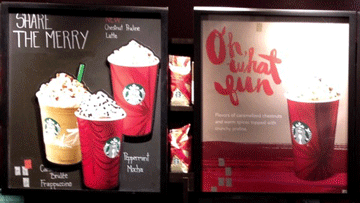 Starbucks coffee shops capture the spirit of the holidays. The company's consistent adjustments to its menu offer a variety of recipes relevant to the season. These flavors are so well known that they have become almost iconic of Starbucks. College student Katelyn Thompson said "I know there are holiday flavors everywhere, but when I see the letters 'PSL' I automatically associate pumpkin [spice] lattes with Starbucks."
Pumpkin spice isn't Starbucks' only fall favorite. Employee Matt Hardesty said "gingerbread and caramel brulee are really popular," and he added that it's not only the stereotypical young college females who get excited about seasonal flavors. "There are plenty of older men who order a pumpkin spice latte every day we have it," Hardesty noted.

Although many flavors repeat year to year, the company always makes adjustments to them, striving for improvement and change while maintaining customer favorites. Hardesty said "last year we changed the gingerbread latte a bit, switching from regular whipped cream to a spiced whipped cream, and changing the topping from nutmeg to molasses." The recipes change, but alternatives are always available upon special request. "I like having the options because I prefer the nutmeg to the molasses, so that's how I always make mine," Hardesty added.

This year Starbucks launched a three-day Halloween exclusive: the Franken Frappuccino. This green concoction, inspired by the monster in Mary Shelley's "Frankenstein," combines the flavors of green tea, white mocha, and peppermint blended together with java chips for a sweet and minty treat. Employee George Kitchen says "the younger kids that come in here ordered this one more than anyone," showing that the Starbucks appeal reaches consumers of all ages through the holiday experience.
Soon enough Christmas will be in the air and snow will cover the ground. These are the days that 23-year-old Starbucks fanatic Bridgit Lewis curls up with a hot peppermint mocha latte. "Peppermint and candy canes are such an amazing part of Christmas so whenever I want a holiday drink, that's my go to," said Lewis.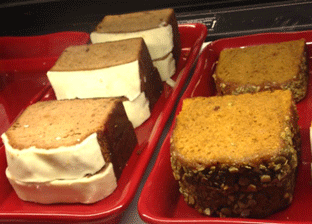 So what if coffee's not your thing? Starbucks has more to offer than caffeinated beverages. Recently, "La Boulange" bakery partnered with Starbucks, combining its original mouth-watering treats with French baker Pascal Rigo's company.

Featured this season are treats appealing to a wide range of consumers across the age-lines. The pumpkin sugar cookie, colored with orange icing and black outline, visually appeals to children but certainly adults enjoy it as well. Employee Karli Weetman says "the pumpkin sugar cookies tend to go in twos… I'll often see parents take one out of the bag and give it to their child, then take one for themselves."

Additionally, Starbucks features fall desserts such as the pecan tart, Washington apple pound cakes, and pumpkin scones and tarts. One item, more under the radar in terms of publicity, is the cranberry orange scone. Cranberry is a long-time Thanksgiving flavor seen on dinner tables as a sauce all across the country. While talk of the pumpkin craze sweeps the nation, the distinct flavor combination of cranberry and orange is not over-shadowed.

"Pumpkin is so common, and that's understandable, but people go crazy over the cranberry treats," said Kitchen. "They're rare. Customers eat them up while they can."

Downtown Frederick is also the home of Angelcakes bakery, winner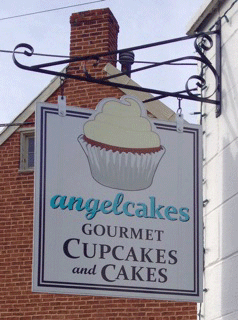 of the title "best dessert" in Frederick Magazine for the past three years. Here, you can find gourmet cakes and cupcakes to celebrate the season in a way that lets you customize your order. In addition to the menu of pre-determined recipes, Angelcakes lets you be creator. The bakery offers a variety of options for the cake flavor, filling and icing, and custom design.

One day features that sweeten up the holiday include Friday's apple strudel special and Sunday's pumpkin spice. Additionally, the company features red velvet infused with vanilla buttercream.

But what Angelcake fans rave about is the salted caramel cupcake. Cupcake fanatic Kim Cera says "the salted caramel is to die for. It's the perfect blend of sweet and salty… I get it every year during the holidays." The dessert is compiled of caramel infused buttercake stuffed with caramel buttercream, and topped with caramel drizzle and sea salt for some contrast.

Holiday favorites will only be featured for a limited time, so put on your scarf and boots and visit a local café or bakery. Whether you want a cool minty iced beverage, a sweet hot latte, or a delicious treat from the bakery, Starbucks and Angelcakes have something in store to keep you and your family toasty and satisfied this holiday season.