By: Nicole Brudner// "You mind moving that because some people might step on it," said one 4-year-old boy to another.
"Let me help you do that, okay," said one little girl to a classmate.
"Can we barrow your pencil?" asks one boy to another then returns the pencil as soon as he is finished.
"In Montessori schools, kids learn about community," said Diane Oliver, Ph. D. in Child Clinical Psychology, "They have strong feelings about good citizenship. They care about people and care for animals."
More Montessori schools have opened in the past few years in Frederick County. Monocacy Valley Public Charter Montessori School just opened as Frederick's and Maryland's first public charter Montessori open to students' Pre-K through eighth grade.
Darlene Overholtzer, the physical education teacher at Monocacy Valley Montessori Public Charter School, said that there are currently 300 enrolled at Monocacy Valley and there is a waiting list of 800.
They have opened a second public charter school, called Carroll Creek Montessori, which offers Pre-K, kindergarten and lower L which is grades 1, 2 and 3.
 The best age for children to be in Montessori schooling is preschool, Pre-K and kindergarten, said Oliver. She said that most children transition into traditional schools well.
Dianne Hanson put both her children in Frederick Country Day Montessori. Hanson had her daughter Brooke in the private Montessori school for two years, before she finished and went onto a traditional public school. Her son, Hayden is currently enrolled in his second year at the Montessori.
"Initially I liked the hours and the methods they used for learning," Hanson said, "We toured it and it felt warm and cozy. It was friendly and peaceful. We felt comfortable in the front door and knew immediately."
In the kindergarten classroom, the walls are calm, cool colors. Everything is organized and neat on shelves. The students are in different areas around the classroom, while the teacher makes her way to different students to teach them lessons.
Some students are drawing and other students are on the floor on rugs learning math with long strings of beads. An older girl is standing behind a younger girl at an easel helping her get her painted picture up to dry.
In Montessori, students are grouped with different ages to help one another and teach each other.  The student stays with the same teacher for three years and the curriculum is planned for the following three years. It is good for the teacher to see how the student progresses and the students become comfortable with their teacher and peers.
"What I like about teaching at a Montessori school is that I enjoy observing each child's growth. It is so wonderful to see that a child after they stay in the Primary Montessori classroom for three years. Everything is unfolded during the kindergarten year. You never know how much you touch a child's heart and influence them in later life. Planting a Montessori seed in a child is my passion to the education," said Leslie Hwang, who has been teaching in Montessori for 15 years.
Louise Wamsley, Directress of Frederick Country Day Montessori said, "The older children model for the younger children. Just like in a family. It's a little community because you are empowering the children."
The Montessori classroom looks like a little community and teaches them things that they can use not only in a classroom setting but real life skills.
Around the classroom, which Montessori students are free to move about, are work areas that teach students about math, reading, geography, music as well as practical life. That area of the classroom includes window washing, polishing, lacing, flower arranging and sewing.
Those things might seem silly to an outsider just watching but they actually teach the students motor skills, life skills and creativity.
"Teaching them how to hold tweezers and moving pom-poms from one glass to another might seem strange to the untrained eye. But the picking up action is preparing their muscles and making their hands stronger. They are really learning how to hold a pencil. A regular pencil," said Darlene Overholtzer, the physical education teacher at Monocacy Valley Montessori Public Charter School.
The items around the classroom are made of nice wood, glass and china. There is not a lot of plastic in a Montessori classroom.
"This is called a 'Prepared Environment'. There is only one of everything. The children learn to be patient and take great care of what is in the classroom. They have to take care of the stuff," said Wamsley. 
Students can do their work at a table or roll out a rug on the floor. They respect one another's boundaries by walking around the rug.
After children are done with their work, they place it back on the shelf or where they found it without being asked. They will roll up their rug and put it back. This is done with precision and everything in the class is in order.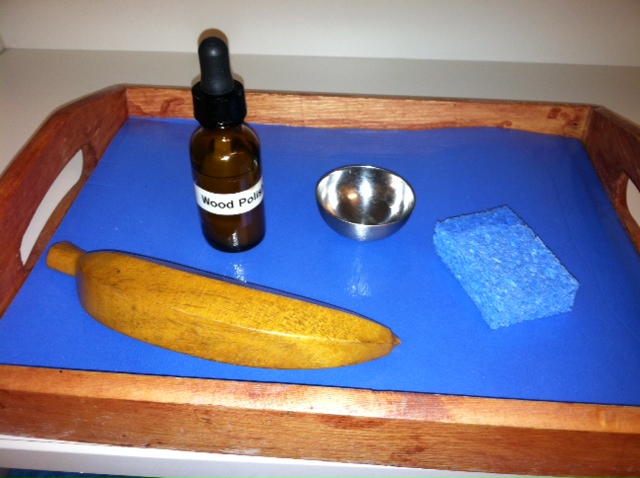 Wood polishing tray for students in the life skills section
Country Day Montessori kindergarten classroom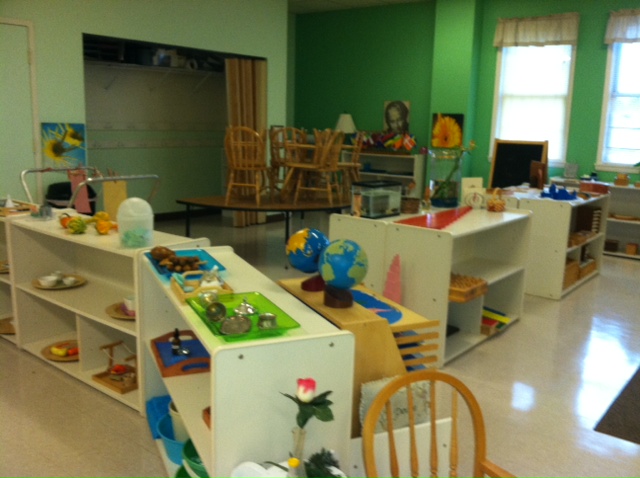 The children in Montessori have a certain amount of freedom. At Frederick Country Day, in the kindergarten class, they can make their snack when they want and do not have to ask to go to the bathroom, which is located inside of the classroom. 
Hanson said, "Children can go into an area they want to learn in. Being able to explore is the best part of the school."
Brooke Hanson, a graduate from Frederick Country Day Montessori said, "Here (Montessori) you learn and play more. In traditional school they give you worksheets and you are sitting at a desk. In Montessori you can experiment with the things around you."
"Here's this and this and you figure it out," said Oliver.
"It's intrinsic motivation for learning, the motivation comes from inside of you," she said. Oliver said the students can learn, explore and be scientists and the Montessori philosophy guides, supports and gives them resources.  
Overholtzer said, "You follow the child but it does not mean they do what they want. In Montessori, if a child is ready to move on; you move on. If they are still thinking about it or processing it, then you don't stop them. Don't you remember times in school when you didn't understand something and the teacher moved on and you didn't get a chance to finish? In Montessori, if they are still actively thinking it out; you don't stop the process."
"Children are free to learn at their own pace. There is an individual plan for each child. The main philosophy is to follow the child. The teacher is just the guide," said Wamsley.
Maria Montessori is the founder of this way of schooling. She said that children are unique and wanted to teach students with hands on experience.
The experience is different than at traditional school, in physical education class for instance. In a traditional school, students would play sports in gym. In Monocacy Valley Public Charter Montessori School, Overholtzer said she incorporates geography, history and physical activity all into her P.E. classes. Instead of kickball or running the mile, she will have a lesson on how the pilgrims are traveling across the U.S and while teaching that lesson the students will be exercising. 
Oliver said traditional schools in Montgomery County are trying to go this type of integrated learning that Montessori schools have always been doing, where they combine different subjects into one, like Overholtzer does in P.E. class.
"You experience life interrelated," said Oliver, "It's more engaging."
Oliver said that students at Montessori schools can see how the world works. "They have pride, esteem, and self-efficiency; set goals and they can do it," said Oliver.
She said the students are highly motivated, and not just to get 'A's but because they "want to know."