By: Zari DeMesme

"I know that the choices I made about the placement of my tattoos will have me possibly wearing long sleeve shirts for my entire career, but I am fine with that because they all mean something special to me."
Justin Bowens, 21-year-old senior at Hood College, has an entire arm covered in tattoos as well as a chest piece and a quarter sleeve on his other arm. Throughout his college career he has acquired a little over 20 tattoos and has said that they help to relieve stress when he gets them. "I always think of my future before I get a new tattoo," he said.
Bowen's goes on to say, "I have an internship which requires me to dress in business attire, but when I do so I can cover every last one of my tattoos with ease by wearing a long sleeve shirt."
Since the popularity of tattoos has grown so vastly, people do not necessarily think before they act. When getting a tattoo it may or may not cross the mind that someday the person getting the tattoo may want a job. Depending on the placement and visibility of the tattoo getting a job may be a breeze. But if not, it raises the question of whether or not tattoos are appropriate in the workplace.
Tattoos are a way of self-expression. Unlike piercings, they are permanently embedded in the skin. Although laser removal can be an option, it is very costly and a lot more painful than actually getting a tattoo and it also cannot be done in one sitting. Laser removal takes several sessions. Most people will just find an easier way to hide their tattoos.
Upon requesting information about a job it is important to ask questions about their policies on tattoos, piercings and the dress code. Some professions, for example, being a tattoo artist doesn't have a policy about the visibility of tattoos or piercings because they go with the profession.
Carlton Smith, a 21-year-old firefighter for Prince Georges County, has two half sleeves with two different themes. The right arm has a religious theme, which consists of a dove and praying hands holding a rosary. The left arm is a burning building to represent his dedication to being a firefighter. Both can be easily hidden by a short sleeve shirt.
He had a quarter sleeve when he first started working at the firehouse and over time after being fully employed he acquired more tattoos. Smith said, "Some fire departments have a tattoo policy while others don't. Luckily I found a fire station that isn't really concerned about tattoos."
Smith then went on to say, "If you don't have any tattoos yet, I would suggest to not get one until you are hired and off probation. People still perceive tattoos being a bad thing and the people that hire firefighters are in that group."
Carolyn Eaves, head of the administration office of Sasha Bruce Youthworks, is responsible for hiring people to work under her.
Because her job is to look over all of the programs that the organization is responsible for, she has worked with people/teens that have tattoos. If they have a large quantity of tattoos and she does hire them she requires them to cover them up and to look professional in order to prepare them to be around a business setting.
Eaves said: "Majority of jobs and occupations today has changed their policies on tattoos and piercings, but I want to prepare the kids that I hire for the places that aren't tolerant of visible tattoos. I want them to look as professional as possible."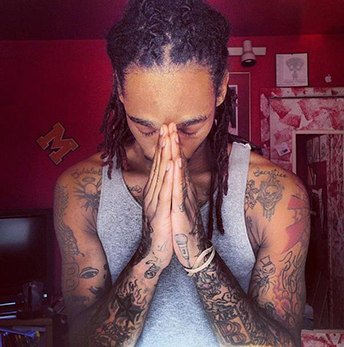 Chad "Crash" Jones, 22, who has over 100 tattoos, said he has had several jobs that were "cool" with having a large quantity of tattoos.
"I've been working for UPS for quite a while now and I haven't been required to wear long sleeves but then again, I work in the back where I'm not seen by the customers," said Jones.
"But I've had friends who drove the trucks and sometimes they were asked to wear a long sleeve shirt or pants instead of shorts because the manager just wanted them to look a little more professional."
Christian Suite, a 20-year-old police officer in training for Prince Georges County Md., has two tattoos; one on his chest and the other on his upper arm. "The rules for the program that I am in to become a police officer are that there cannot be any visible tattoos, but it was okay to have them if they could be covered."
Suite explained that the only reason he has a tattoo on his upper arm was because a fellow officer had been shot and killed in May of 2011. Her 11-month-olddaughter was left in an SUV on a hot day to die. "She was a victim of domestic violence," he said.
"She had the dream of being a police officer. Her child's father was a DC officer and killed her and the baby because he didn't want to pay child support."
Suite went on to say, "As far as tattoos in general we can't have anything gang related or anything lower then mid bicep or below elbows until you become an actual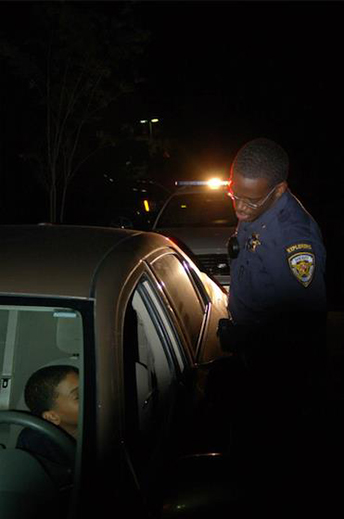 police officer."
Suite closed by saying, "Believe me I can't wait to become a full police officer because I plan to add onto the tattoo on my arm, it means a lot to me."