By Natalie Hernandez
Second Senior Exhibit Explained
The second Senior Exhibit of the year was displayed in Tatem Art Center on April 16th through April 27th. The gallery featured student artists Lena Michelle's oil paintings, and Antonio Franco's photography installation.
Both artists depicted a bar theme.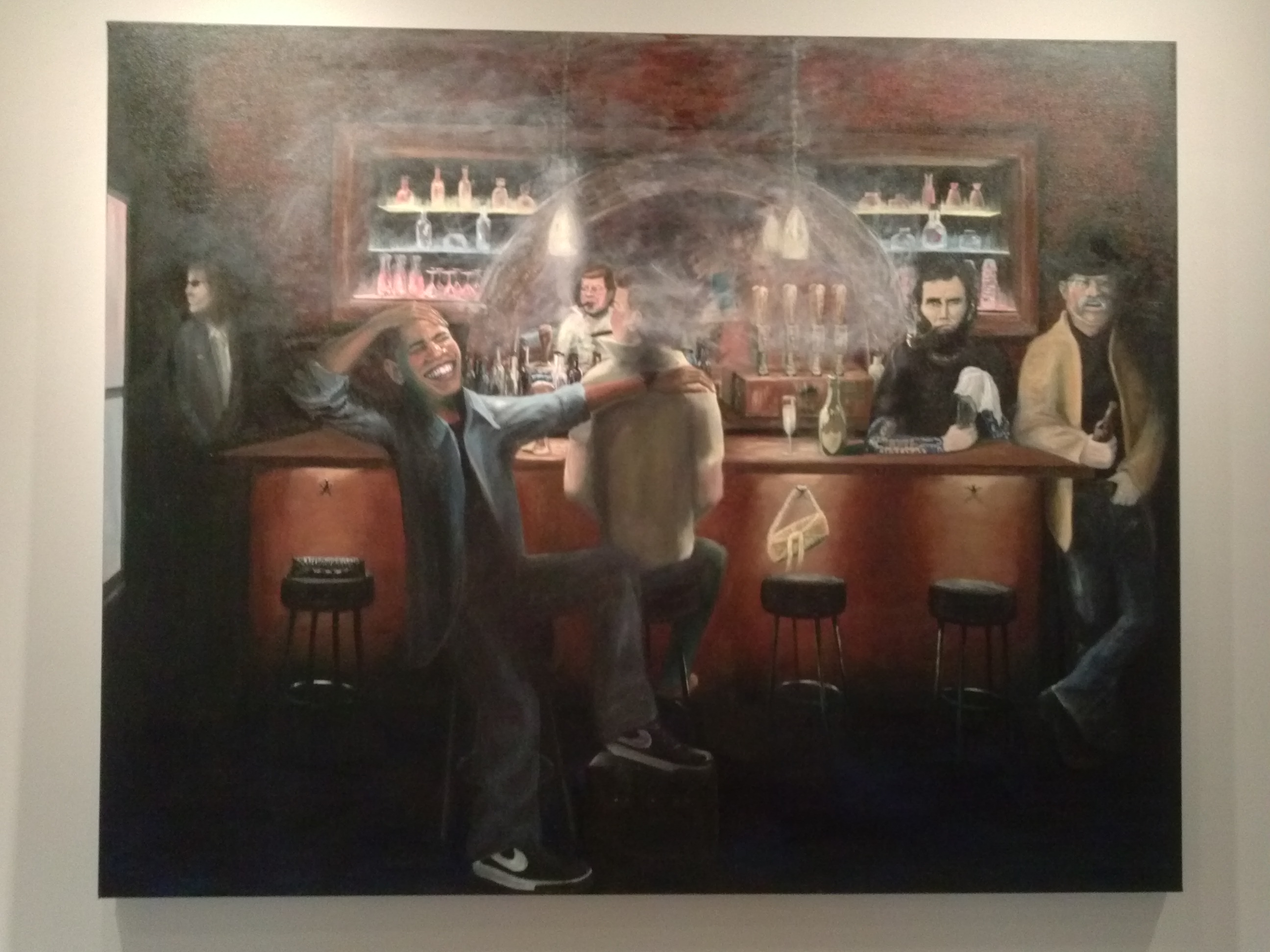 Michelle's paintings were hung on the white walls filling up exactly half the exhibit space and portrayed an imaginary bar called the Top Hat. She illustrated the Top Hat's poker room, V.I.P room, and bar on her different canvases.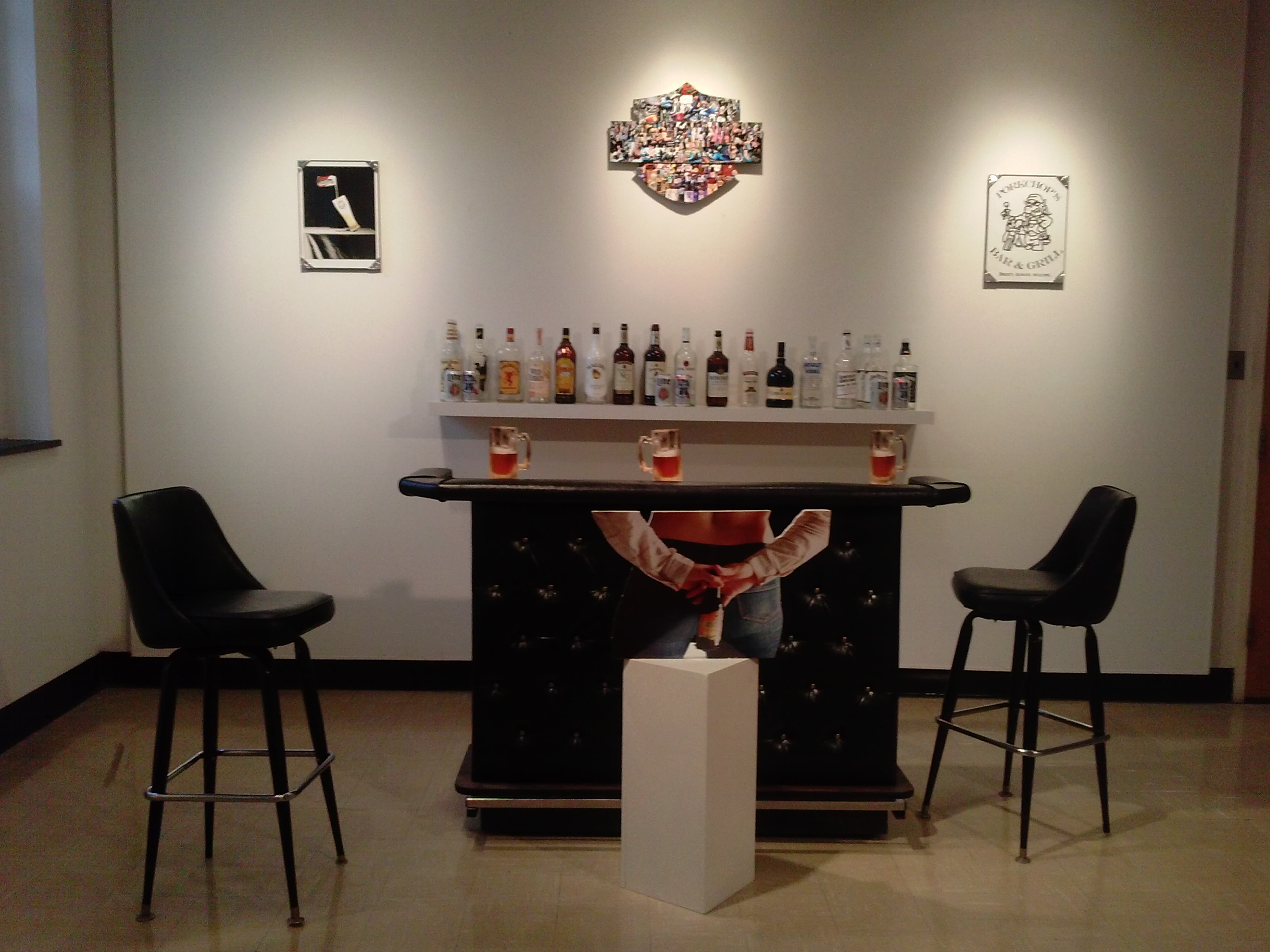 While Franco's real bar and photos rested on the other side of the room. Behind the bar counter was a shelf. Captain Morgan, Jack Daniels and Jose Cuervo sat on the shelf. Next to the bar was a tall stool that people could sit on and next to the shelf was a bar sign that read Pork chops bar & grill.
"This bar [the counter] was actually out of my living room and will be heading back there…The liquor cans and the beers cans are kind of self-explanatory where I got those from," said Franco.
The installation was the only item not being sold. Although the artist shared a bar commonality, their art displayed different artistic techniques.
Visually, Michelle's "A matter of Fact series" was a contradiction of color and dark, and a combination of future and present. Her paintings juxtaposed the white gallery walls with the overwhelming dark browns and blacks used to darken her historical figures, modern celebrities and bar scene. Yet within the same dim paintings there were pops of color fighting to contrast the bar's mood. Michelle painted vibrant accent lighting and dressed her characters with flashy clothing, to show her figures in a different light.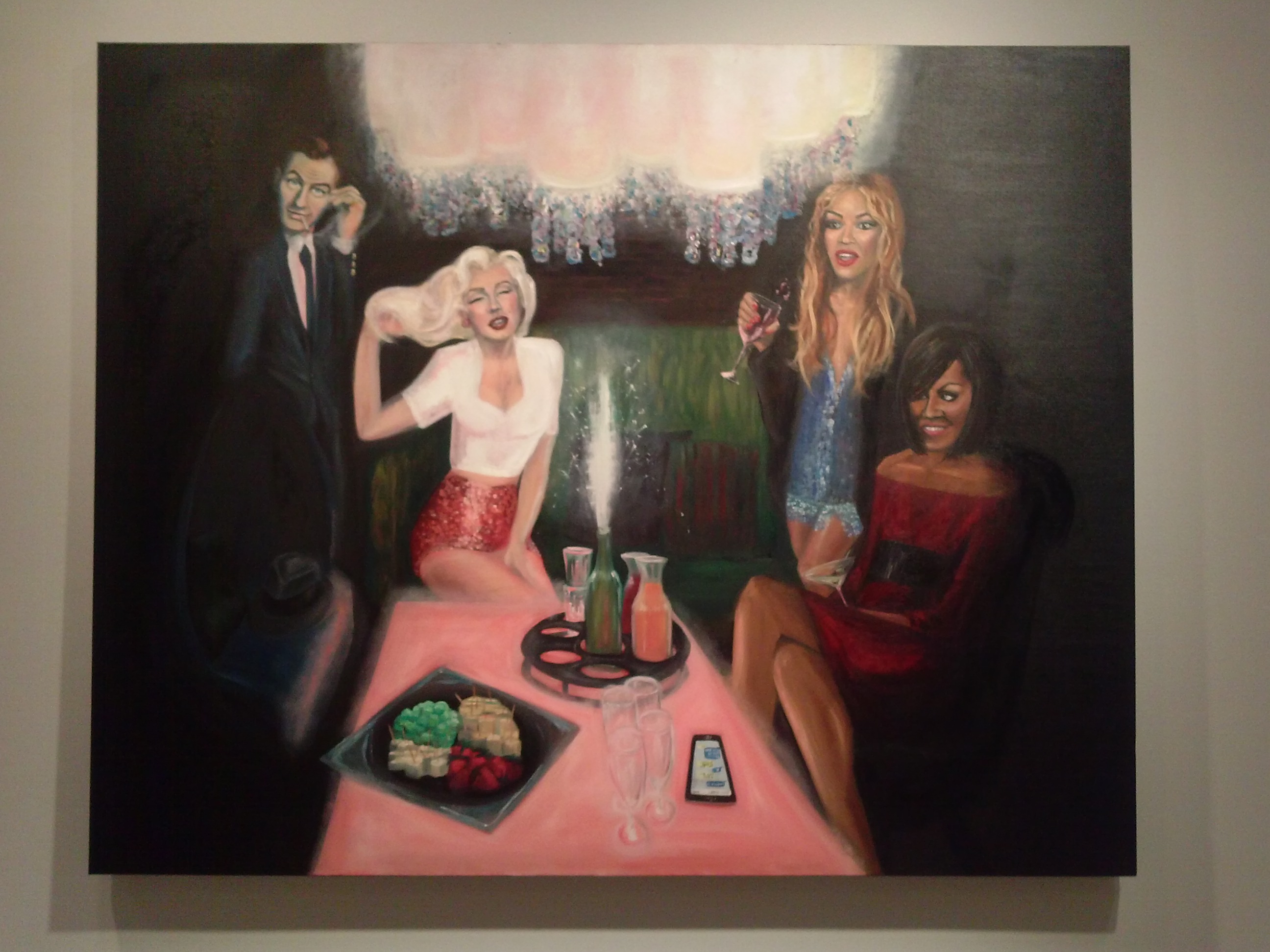 She named her exhibit "A Matter of Fact" because she said, "A lot of the facts in early American history are just this many people said so, so its facts. Well, Buchannan was gay. This many people said, so why isn't it fact, because it isn't so pretty and people aren't as willing to except it. So, that is why the title isnamed a "Matter of Fact" because it's a matter of what you decide is fact."
Franco's series on the other hand wasn't as cavernous as it was tavern-ous. The title of his instillation was "Bikes, Babes & Beers". His biker lifestyle images incorporated a lot of artistic techniques like bokeh, color splashes, and converging lines. But even he said, "My show is very self-explanatory I like bikes, I like babes and I like beer."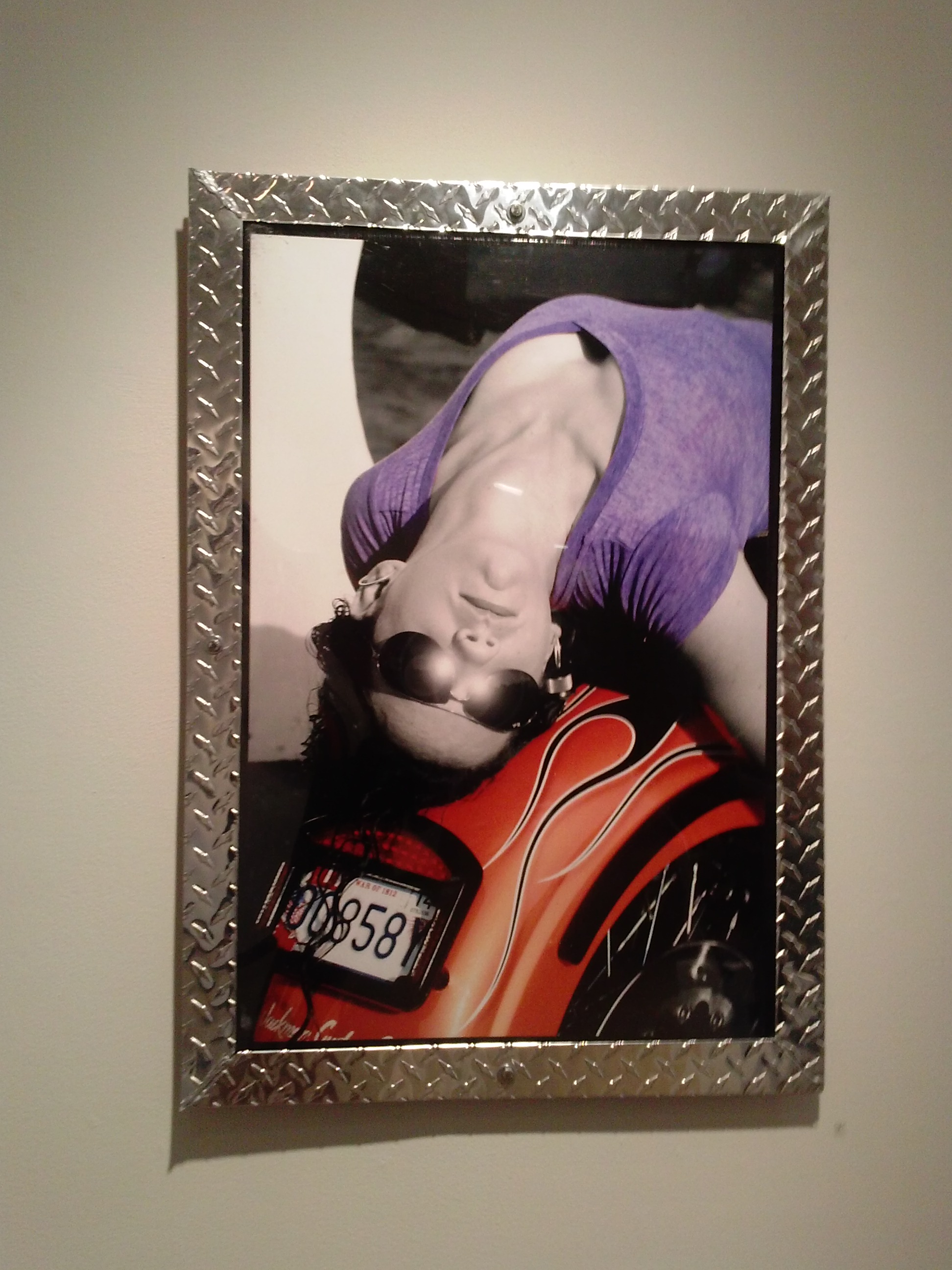 Whiles Franco's pieces were superficial, Michelle's pieces were multilayered with a lot of background information.
Hood Gallery Director Adam Farcus said, "I wouldn't have chosen to put these two people, Tony and Lena, together. I guess it was kind of a combination because it was both about bar scenes, but that's only subject matter. The content is way different. And I think the approach is way different."
Lena's approach stemmed from her childhood.
"It came a lot from when I was as a child and I felt like I was always wearing masks. I t felt like I was always putting on a persona, because in Virginia, where I grew up, there was still a weird racial gap. And growing up half black half white and I never knew which way to go. I was always straddling that line. And I didn't really realize it at the time," said Michelle.
Michelle said that after realizing that about her childhood she started looking at other people that way.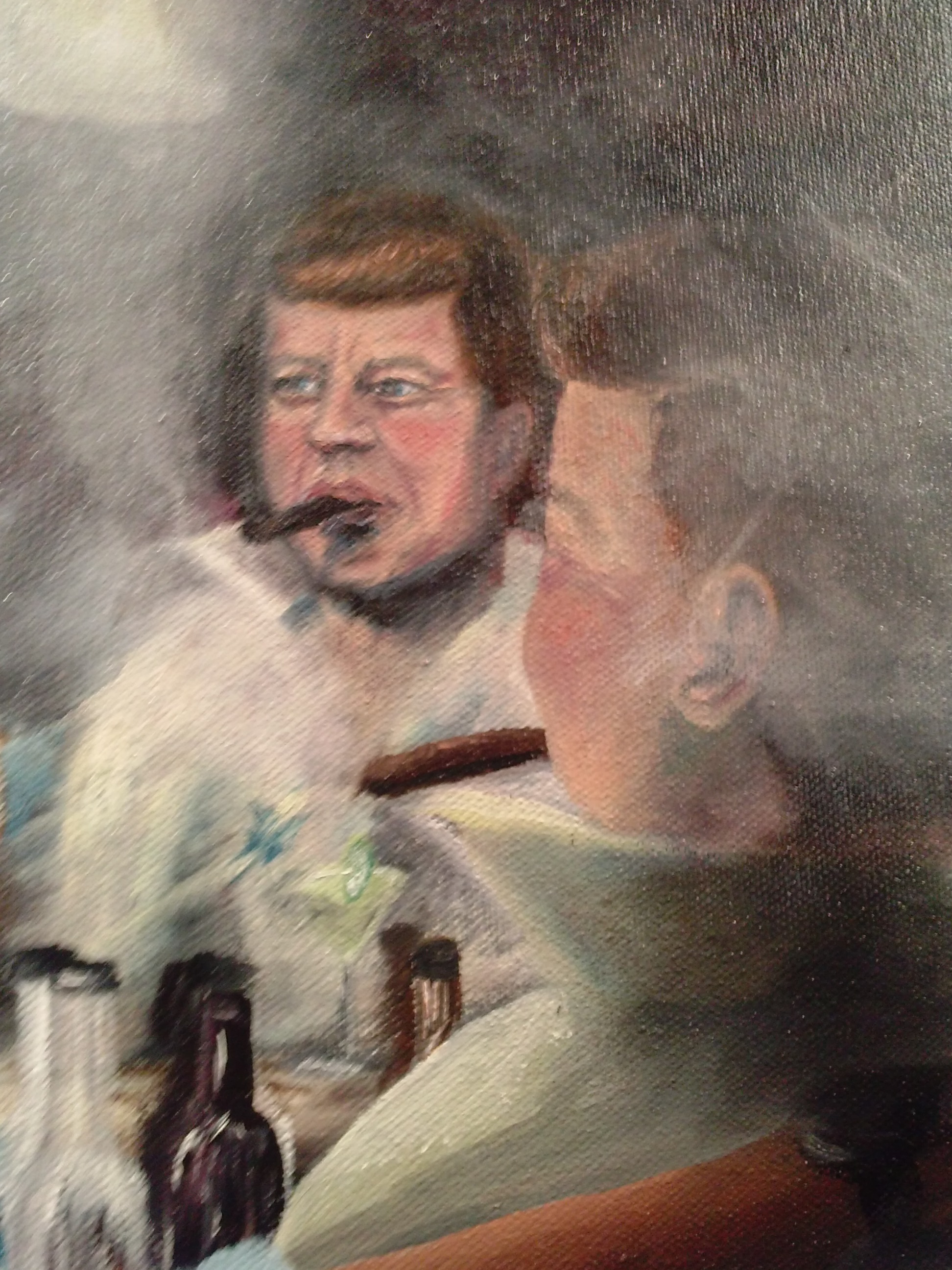 She said, "So, if this is how I act, what type of mask are you putting on? I was always interested in the person behind that character, that persona, that they are showing us. And then historically the facts they [the people who write history] let us know. So in the history books we get the edited version, what somebody else considers a fact. A lot of the facts in early American history are just this many people said so, so its facts"
Farcus, who went to the opening exhibit, interpreted her piece as role switching. "Role switch, she all together captured this [trait] of people in her paintings and in her works. Historically people and celebrities had to switch between playing different roles depending on who they are around, or what they're with or when they are being in the public eye," he said.
Franco's inspiration didn't go as far back as childhood.
"Back when I first started college, and I first started doing photography seriously, I read articles about how to become a professional photographer. And one of the articles had advice to photographers to pick something that they liked and go out and shoot it as often as they can," said Franco.
Just like Michelle's work, Farcus correspondingly critiques Franco's work and said that Franco has found himself a niche in this photography thing. Farcus also said he further questions if Franco wants to still perpetuate the idea that women are decorations.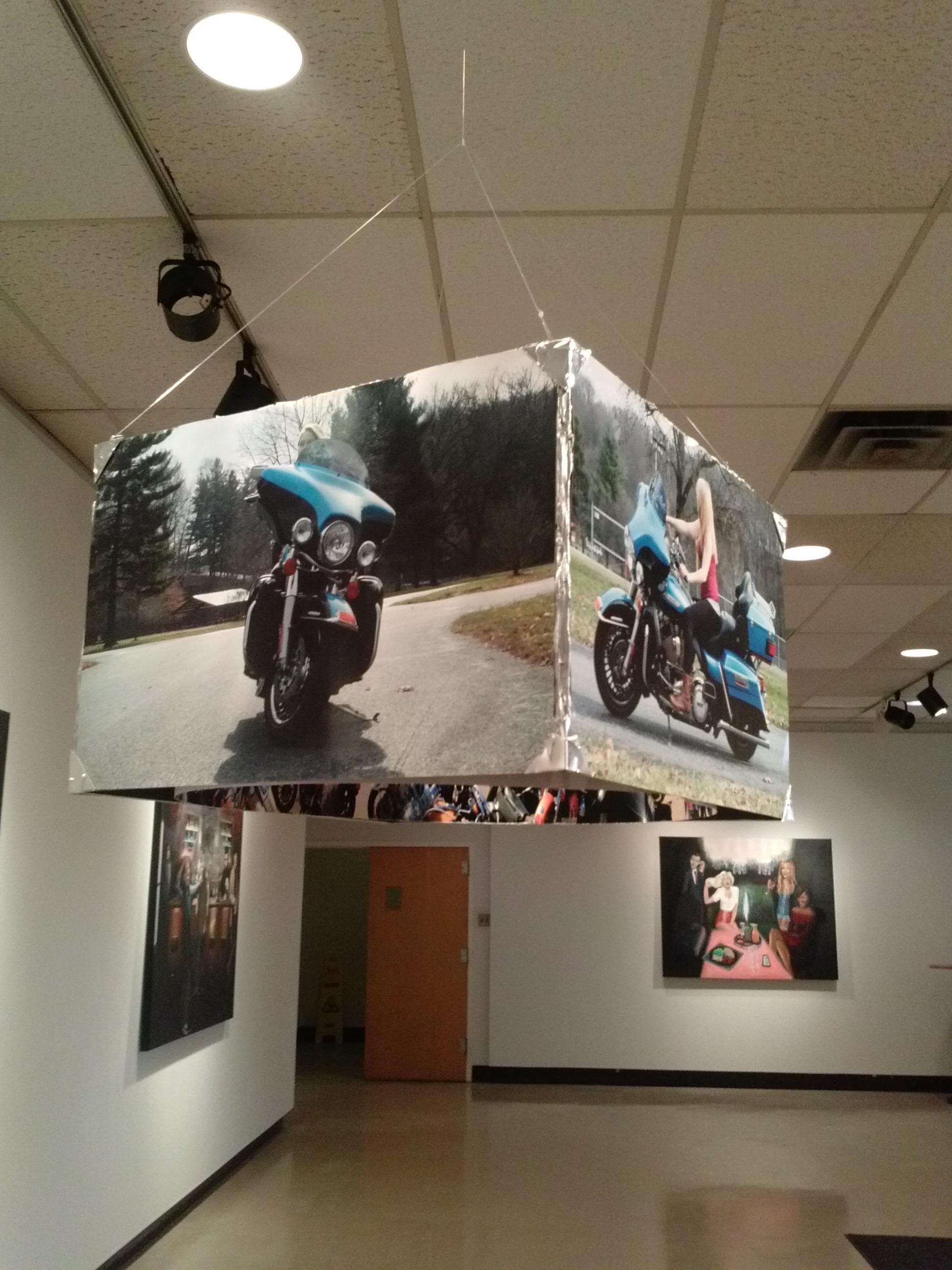 He said, "I don't think he really answers that and I'm not sure that he is interested in answering it, because his going to graduate and work in to a field of motorcycle people and in that culture of where they don't really expect that question to be answered and dealt with."
Like previously mentioned, Michelle's work is multifaceted. She even has answers to why she mixed time periods.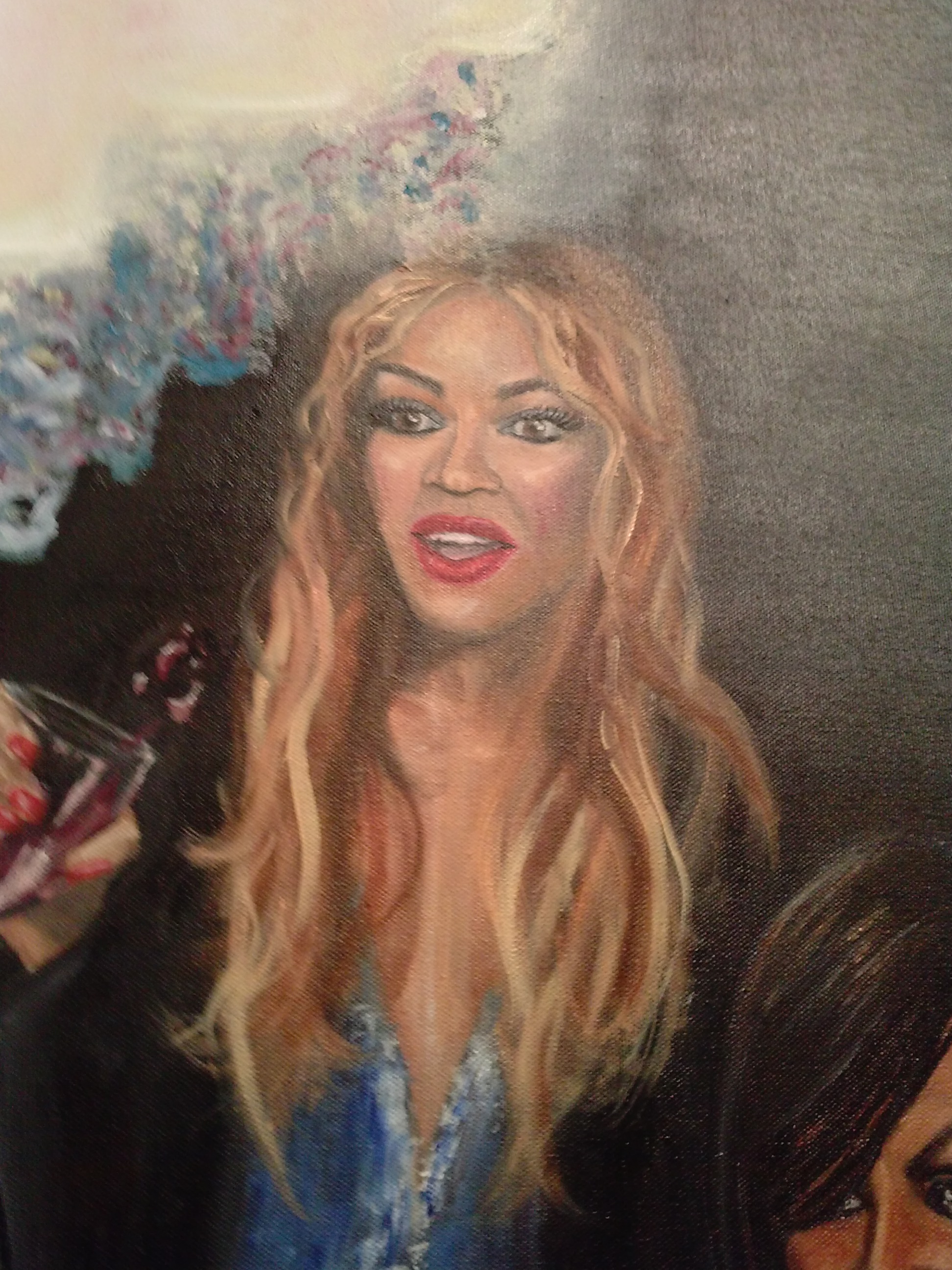 Michelle said, "So I wanted to put them in an atmosphere. Where if they were all alive today, what would there other personalities be. If they were alive today, who would they be hanging out with? Beyoncé and Jay Z are here because a lot of the time they are viewed as the Marylyn and Frank of today. They are always at all the functions of the president and first lady."
Franco's exhibit had a lot to do with the layout. He explained the reasoning behind why he included the items that he had in his exhibit.
Franco said, "Basically when you came in there was supposed to be a motorcycle parked there, like if a technician had been working on a bike. And then this section here was supposed to look like if you were at a biker bar; the pork chops & grill. And over here on this side it's more of a showroom kind of atmosphere like you're at the shop."
While Franco made the exhibit into a bar, Michelle took a different approach on how to involve the audience in her art.
"They are all interacting with each other. It's all one scene. And so I painted them all with a certain angle, a view. I want the viewer to be a part of the bar. Like if you were at a table in the middle of the bar and you were people watching. I want you to be a part of that atmosphere. I wanted you to have as many sides as you could. So you're kind of engulfed in what is going on. So that is why the table leans right up to the edge of the pieces, so that even if you were to walk by the table you are right there. Like you could sit down, you might be one of the people that folded already and walked away and came back, or you could be coming up to play," She said.
The artist had a few unexpected changes to their original exhibit plans.
Franco said, "Since, Tatem isn't ADA compliant yet and the [lighter] biker I had initially backed out at the last minute, I couldn't get my bike up here because it's awfully big and I couldn't make it up the steps. Facilities had a ramp, but it didn't work out…I was trying to make you feel like you were a part of the installation."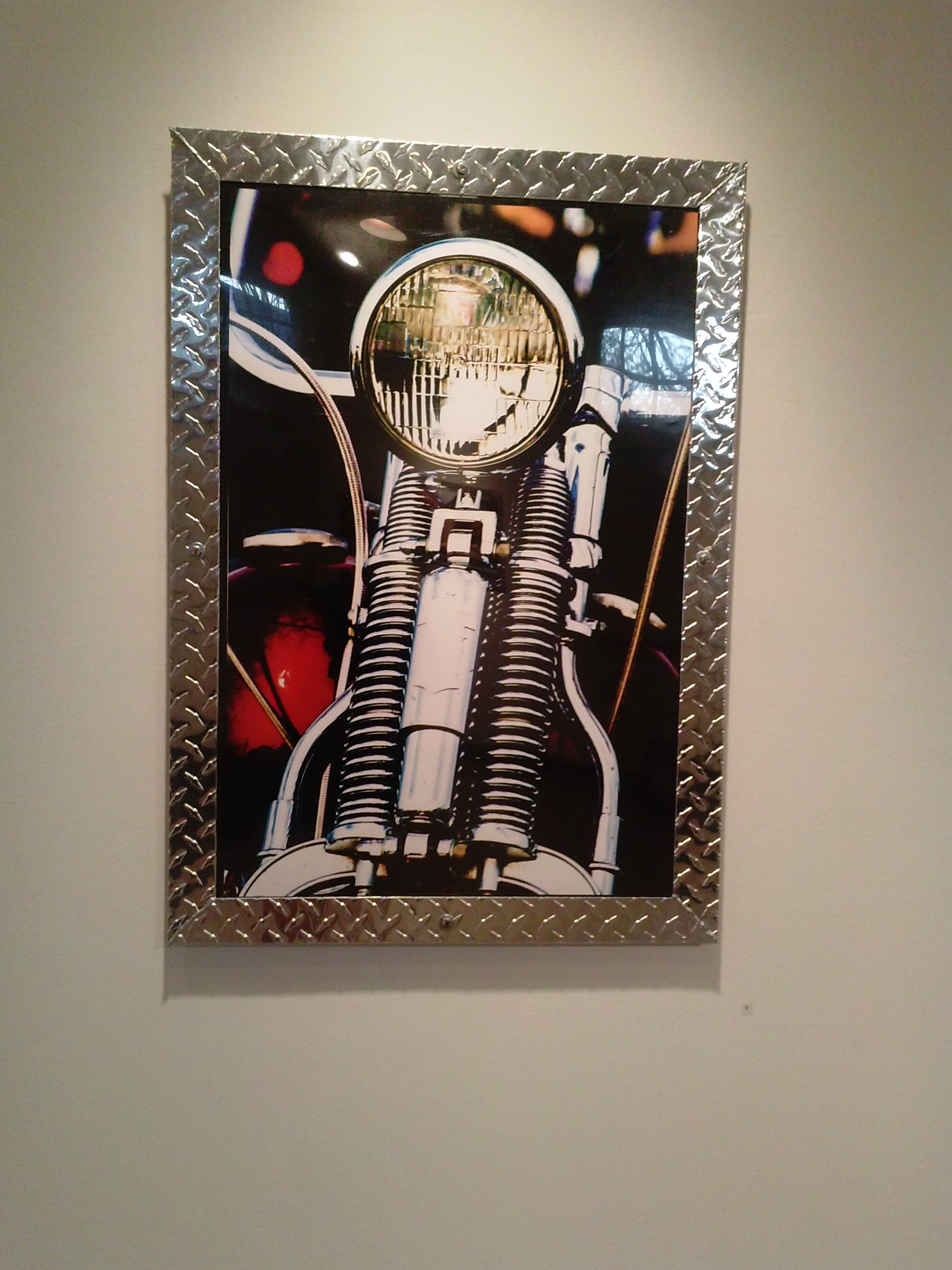 Lena said that she was originally supposed to be doing the third show.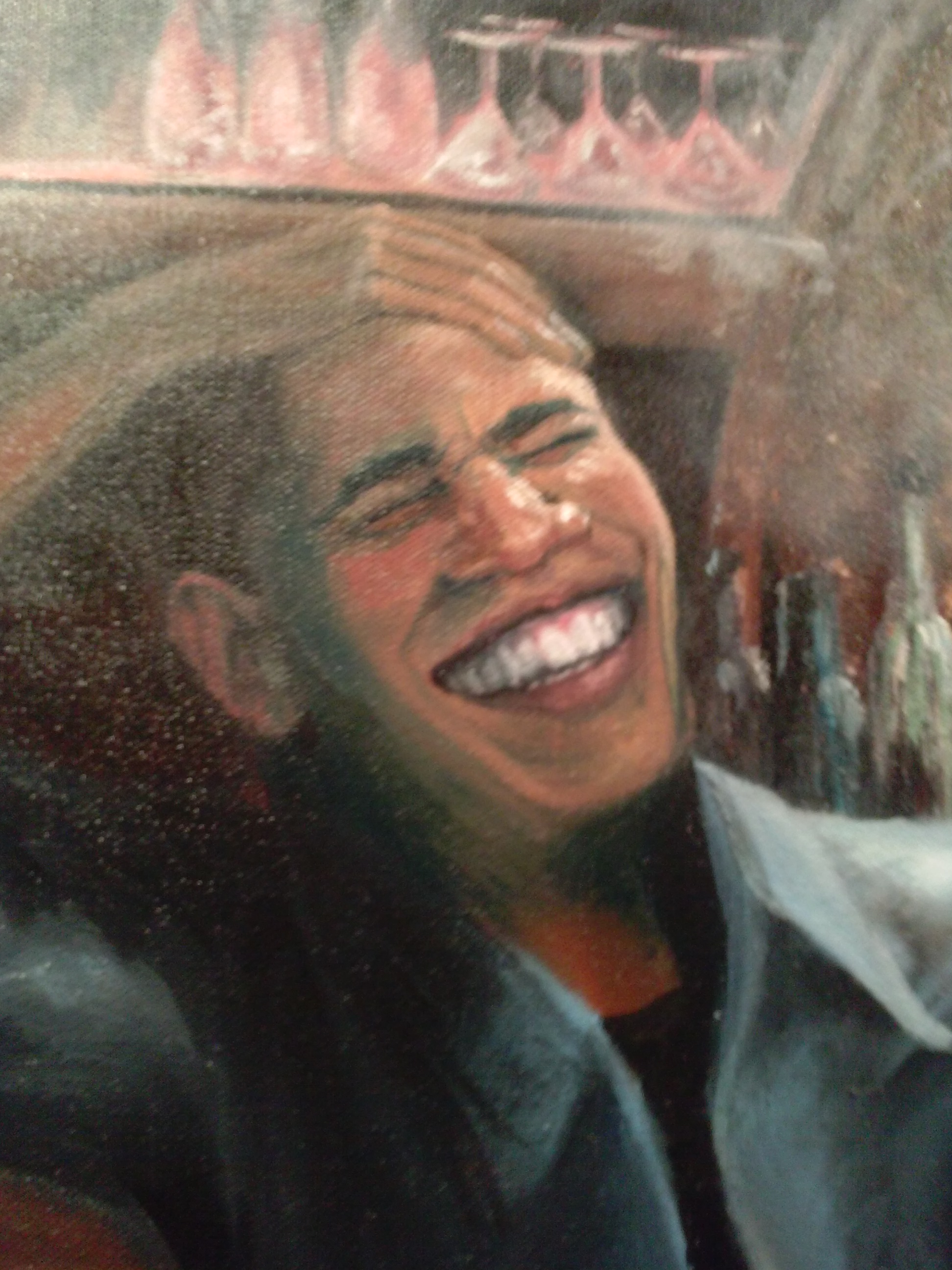 "There were to be three of us in that show [the final senior exhibit]. But their work was a little bit more landscapes, and pottery and things like that…We [Franco and I] have a little bit more play the atmosphere is a little better, and I won't be interrupting anyone's serene quality. So I pushed my date up and finished working a couple weeks earlier," she said.
In addition, Franco and Lena included a new element to the normal exhibit opening. At this open show there was actual beer served.
Franco said, "Normally, they have fresh fruits, cookies, cheese and crackers, and wine, and they still had that stuff. But, I wanted to make sure that there was beer."
Lena said, "There is always wine, but we were like no, we need beer. It was cool everyone was walking around with coronas in their hand."