The weather is getting colder and Christmas will be here before you know it. Christmas time means gift shopping time.

Have you thought about where in the world you could find unique, trendy, and/or useful Christmas gifts, without breaking the bank?

Downtown Frederick has a variety of places such as antique, book, furniture, toys, clothes, and makeup shops that may be able to help.

You may not have the slightest idea about what to buy and where to buy it. To help figure out what you want to buy, you must first think about who you are buying the gift for.
If you are looking for toys and books for children, Dancing Bear Toys and Gifts is a place that can help.


Dancing Bear has toys for all ages, books easy enough for a child to read, board games galore, and plenty of arts and crafts. Some unique potential Christmas gifts found in Dancing Bear are these large stuffed plushies.

These plushies can be used as pillows and used as toys for children to play with. These plushies came in numerous designs, such as ones shaped like cupcakes, tigers, brown bears, dogs, and pandas.

Lisa Shinn, 22, a manager at Dancing Bear, said that "Arts and crafts are the top sellers, followed by games, and then followed by science things."

If you aren't sure what to buy, buy the best seller, which is arts and crafts. Some types of arts and crafts sold at Dancing Bear are coloring books, building blocks, and general art supplies, such as paint and crayons.

If your sibling isn't a big arts and crafts fan, try buying the second best seller, which is games. Dancing Bear sells older classic games such as Milles Bourne and Parcheesi and they also have games for the newer generation, such as Word on the Street and Anomia.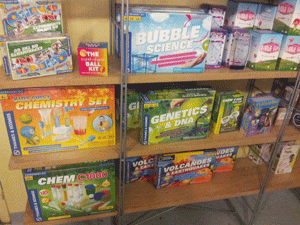 Finally, if you look at the games and arts and crafts and still don't find anything perfect for your little brother or sister, try looking at the science things.

From chemistry sets, to sets that teach children about volcanoes and earthquakes, these science sets are educational and fun.

Maybe you don't have any siblings, or you just want to buy gifts for your parents or grandparents. Downtown Frederick can still be of help to you.

Home Essentials motto is "Making a house a home," and that is why this shop is perfect for buying items for your own home, your parents, or your grandparents.

Home Essentials sells a variety of items such as home décor, pet items, garden décor, statues, and wall art.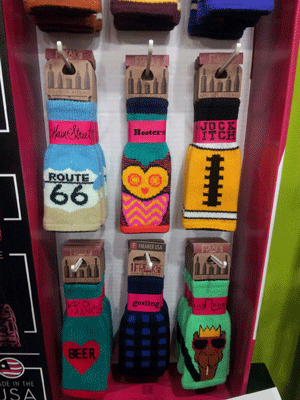 The unique gift ideas found at Home Essentials were beer sleeves. The sleeves came in a variety of patterns and designs such as football themed ones, ones with owls on them, checker board patterned ones, and ones that have characters on them.

Maybe beer sleeves aren't something you have on your Christmas gift list, but maybe something like the wooden sign that said "Ho Ho Ho, three little words that bring out the child," would be a gift you could give to your aunt, mother, or even your grandmother.

Lisa Henry, an employee at Home Essentials, said that their store is popular during the Christmas season because "people like to buy new things to make it [their home] feel fresher."

She said people age ranged from 30-55 come in because those are the "people who have a house to decorate," Henry said.

Maybe your parents aren't really into home decoration or wall art and maybe you still don't know what to buy any of your friends and family. A store like Retro Metro could be helpful.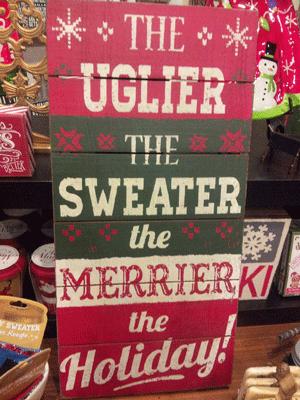 As stated on Retro Metro's site, the store combines "nostalgia from eras past with modern elements to achieve the perfect balance of form and function."

They sell items such as fine gifts, home décor, furniture, jewelry, and kids and baby items. That is a wide spectrum of possibilities that could take care of all of your family and friends Christmas gifts.

Cambra Lamb, 24, an employee at Retro Metro, said "It is hard to point out the most popular [item], because we have so many things that work well as stocking stuffers; it depends on who is getting the item."

People may think that toys and home décor is the best seller at Retro Metro during the Christmas time because the store has so many of those items.

Actually, Lamb said that "kitchen stuff is the most popular, genre-wise, for Christmas items."

Retro Metro has a lot of unique Christmas themed kitchen supplies, such as peppermint designed plates and engraved spoons, saying phrases like "jingle my bells" and "peace on earth."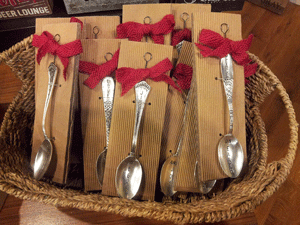 Retro Metro also had a wooden sign that said "The uglier the sweater the merrier the holiday."

Henry, from Home Essentials, said that her and her other employees are "doing our busy dance," hoping to get a lot of customers as soon as possible.

Henry said that in "November, it is more about decoration for the home and then in December it is more about gifts for other people."

So a perfect time to stop by Home Essentials buy the home décor is in November and the perfect time to go and buy your gifts is in December.

Shinn, from Dancing Bear, said that "In about a month, end of November you won't be able to move [in the store]" because it will be so crowded.

If you plan on going to Dancing Bear, your best bet is to go before the end of November, to beat the crowd.

If you want to go to Retro Metro and get your gifts, stay away from the weekends.
Lamb said that when everybody comes in to try to get their last minute Christmas shopping done, "it gets hectic on the weekends."