Writing
Campus Sexual Assault
April 15, 2014
By Maggie McGill

In the most recent Hood campus security report, it noted there were no forcible sex offenses on or off campus from the years 2010-2012.

According to the US Department of Justice, 20 to 25 percent of college-aged women will experience a completed or attempted rape during their college career.
Last year, 1,378 undergraduate students enrolled at Hood College. Sixty percent of those students are women. This means that in 2013 approximately 208 young women experienced forced sexual assault on campus. So why are there no criminal offenses reported?

There are two main reasons why someone would not report a campus sexual assault. The first is because most women do not realize that what they have experienced is sexual assault. The second stems from the fear and shame that plagues victims of sexual assault.  

A crucial element in any sexual act is consent. Without consent from all parties, the act is considered sexual assault. At fall orientation, the college educates incoming freshmen and transfer students on the dangers of sexual assault and date rape. Unfortunately, within the whirlwind of activities, students often overlook and forget the things they learn at these presentations.
One of the most important rules of consent is that a person cannot give consent if under the influence of alcohol or other substances. If you are intoxicated and have sexual relations with someone you did not want to, that is sexual assault. Even if you don't go all the way, it is sexual assault. Even if you change your mind halfway through, it is sexual assault.

The fear and shame that victims feel also plays a large role in reporting attacks.  According to the National Institute of Justice, in 80 to 90 percent of sexual violence cases, the victim and assailant know each other. This means that it is not a creepy person in the alley trying to rape you; it's the friend that lives in your dorm, or the person who sits next to you in biology. 
This closeness creates the fear that if victim takes action, their friends and community will ostracize them for accusing a fellow student. The media provides plenty examples for victim blaming, such as the Steubenville rape case, where reporters focused more on the tears of young rapists than the failing mental health of a 16-year-old girl. Her community and the media attacked her for ruining the futures of the "promising" high school football players.
With cases like this in mind, young women would certainly shy away from reporting sexual assault.

Another issue with campus sexual assault is lack of cooperation from the administration. Young women all over the country are coming forward with their own horror stories.  In March, a Harvard student anonymously detailed her battle with the administration. She eventually had to move out of her building to save her life, as coming in contact with her assailant was damaging to her mental health.

Young women that report sexual assault are often not taken seriously, or the administration tries to settle the matter quietly and without pressing charges. Universities do not want to be known for their high sexual assault rates. Because of this, victims are told to get over it and forgive their attacker. Unfortunately, this is not possible for many victims. Being forced to live and interact with an assailant can lead to depression, anxiety, and poor grades. Young women often have to repeat classes or drop out entirely.

Although Hood offers many services to victims of sexual assault, students are still unsure of what to do if they experience it.
The counseling center is one of the most accessible services on campus. Kaytlin Lapsa, a staff counselor, feels that a large part of the confusion comes from the definition of consent. "There's a lot that people don't know about consent and I think that's where a lot of the gray area comes into play," Lapsa says.

Hood works with the non-profit organization Heartly House, Inc., which provides women who have experienced sexual assault with the initial response, aftercare, and counseling. Lapsa explains, "They will go with you as an advocate and sit with you through the whole process and make sure you understand what's going on and you feel comfortable. That's a good place for people to start if they feel like they're ready for that."

Not everyone feels comfortable going through the process of reporting sexual assault, and for those who aren't ready to take that step, Lapsa encourages victims to confide in someone that they trust. She also encourages anyone who has been sexually assaulted and is unsure of what to do next to visit the counseling center.

"At the counseling center we don't force people to do anything," Lapsa says. "We just present people with their options and we help people make their own decision."
If a sexual assault victim is considering pressing charges, or looking into the case, the next step would be to talk to someone from campus security.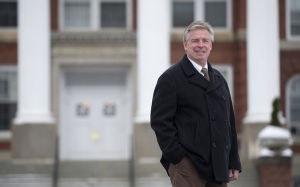 Director of campus safety and security Dan Spedden has dealt with two cases of sexual assault in the five months that he has held the position. He says that campus sexual assault isn't a huge problem.
"It's a small college. It's not what I call a 'jock-ocracy'," Spedden says. "Students are close to the faculty and staff so there's a lot of support there. I'm not saying that we don't have any crime, but we don't have hardly any crime like you'd see at a big institution."

There are new federal regulations regarding campus sexual assault, including a regulation demanding that only a qualified sexual assault investigator can look into cases. Hood is attempting to partner with other colleges in the area so that a handful of people can be trained and shared among campuses. Spedden says Hood will comply with these regulations by October.
Spedden mentions the problem of victim blaming among cases of sexual assault, and turns his attention toward the education of men regarding sexual assault.

"We're not in the business of producing names for the sexual offender registry. We want to prevent that. So I do think that there needs to be more training towards guys. Not just tell the girls how to protect themselves, but to tell the guys that this is predatory behavior this is not something you should allow your friend to engage in, or that you should engage in yourself," Spedden says.
He also talks about the gray area regarding sexual assault, and questions what would be considered valid claims. He says that when under the influence of alcohol, one has to be basically incoherent to be assaulted, and that the level of intoxication of the other party must also be considered.

Spedden endorses third party intervention as a tool to prevent sexual assault on and off campus.

"Third party intervention is becoming a big deal now and I like that a lot, He says. "It isn't new, and I think decent people always did that, but now maybe other people will step up and do it. And not just to their friends but to anybody they see is vulnerable."

The counseling center is open Monday through Friday from 8:30 a.m. - 4:30 p.m. when classes are in session. Call or email one of the counselors to make an appointment.

If you or someone who know has been a victim of sexual assault, please alert an RA, or a member of campus safety for further assistance.

(I would like to clarify that men are also sexually assaulted, but most of that abuse is at the hands of men, which is why I have chosen to focus on sexual assault against women.)
Color Story
Open Mike Night
September 16, 2013

At first glance it might look like any other coffee shop. Wooden tables and chairs are scattered across the hardwood floor. In one corner is a bulletin board plaster with flyers, leading to a wall lined with local photography. The smell of freshly brewed coffee lingers in the air as two girls surrounded by thick textbooks type furiously on their laptops. Yes, this may look like any other coffee shop but Frederick Coffee Co. is anything but ordinary, particularly during their weekly open mike nights.


Two young men make their way to the makeshift stage. A pair of stools sets in front of a large purple tapestry embellished with dark blue hand drawn illustrations of planets and suns. The duo, introduced as Rick and Steve, perform three original songs. Rick Kitchen and Steve Mercer, both 21, are best friends that have performed at open mike night almost weekly. Rick strums guitar and sings while Steve harmonizes and taps the beat on his thigh, creating a style reminiscent of the 1960's.


Steve, a student at Towson, encourages anyone and everyone interested to give open mike night a try. He says, "If you enjoy music, whether you're very serious about it or if it's just a passion of yours, like you can just come here and do whatever you want. Whether you're just going to do covers the entire time or that you're like practicing guitar- you want to learn it, you want to test out your skills, or like if you're serious about it- come out and show what you got."


Rick and Steve end their set, and a friendly, white-haired man thanks them for performing. Open mike night at Frederick Coffee Co. has been going on for nine years, but it is obvious that the heart and soul of this event comes from this man, Todd C. Walker. Walker, 63, is one of the current hosts of open mike night, and appears to be every performers biggest fan. Before and after every set, Walker has nothing but kind words to say.


He is gracious towards the owners of Frederick Coffee Co. for allowing them the space to hold this important event. "From a watch and listen stand point it's very entertaining…and if you're someone who is a performer who doesn't have a band or can't do two or three hours worth of music this is a great place to shine for two songs. It's really wonderful," He says, surrounded by audience members and performers of all ages, including Fran Tucker, a Hood College graduate of the Class of '84.


Outside the coffee shop, Fran smokes a cigarette and laughs. "I don't know what would happen to my voice if I stopped smoking," she says, flicking a bit of ash to the ground. Fran has been filling the coffee shop with her soulful, raspy voice since the very first open mike night, and doesn't plan on stopping anytime soon. Performing is her hobby, and as she belts the final notes from the Adele song "Rolling in the Deep," the reverberation of her voice chills the audience down to the bone.


Through the applause and the music, a young woman with pixie cut hair calls out names as she navigates through the tables and chairs, carrying plates of food. Tyese Solmes, 21, is a California native and a student at Hood College. She works every Tuesday during open mike night at Frederick Coffee Co. and loves hearing the performers. "You're supporting local artists. It's all part of the culture of Frederick."


The open mike night at Frederick Coffee Co. is a safe environment for local artists to freely express themselves, and the talent is not limited to singers and guitar players. "There's a pretty great variety," Tyese says, as her name is called from the kitchen. She pops out of her chair, ready to get back to work. She smiles and says, "Everyone should come on by."