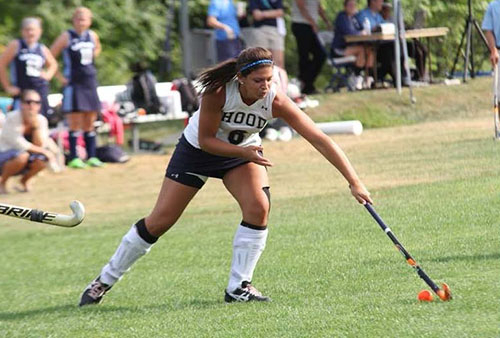 Laura Lokey playing field hockey.
Throughout the year, there are many sports that are always talked about by thousands of people each day. Have you ever thought about the gender of the teams?
Many people do realize that women's sports have never gotten the attention that some say they should deserve on both a local and national level.

According to Women's Sports Foundation, women's sports on both a college and professional level sports continue to provide unequal funding for women.
For college level sports, female students comprise 57 percent of college student populations; female athletes received only 43 percent of participation opportunities

Even though Hood College is a Division 3 school, many people think that women's sports aren't unappreciated, but unpopular.

Laura Lokey, sophomore, plays field hockey and softball at Hood. "No matter where you go, not just at Hood College, people are going to belittle women's sports. It's the double standard for boys over girls no matter what," Lokey says.

With that double standard it can create a favoritism that shows that people are more likely want to watch men's sports because it has a more aggressive and physical aspect than women's sports.

"All in all, sports are all the same. Everyone strives to be better and win. The difference in men vs. women sports is probably the cockiness of the players," Lokey continued.  "Men's sports, whether they are good or not, will always think they are the best our there. Women sports (the athletes) think they're good, but would prefer to how their skills rather than brag about it," Lokey stated.

With the athletes on the field, there is a team behind them who have worked with them all season, the coaches. As coaches, they want to see their team have a successful season, but also they want to see their athletes improve on their skill level.

Alexis Nielson, the head field hockey for Hood College, says she doesn't think that women's sports are unappreciated, but she thinks they are not as popular therefore they may be perceived as unappreciated.
"Women play hard and work hard even if no one is watching," Nielson said.

Women's basketball head coach Jack Mehl, thinks that women's sports don't attract the same fan base as some of the men's sports. "The fans themselves are very loyal and support their athletes in the same way that male athletes are treated. It is just that there are not as many fans," Mehl stated.

Some other people do think that men's teams get more funding than women's teams. However, both Nielson and Mehl say that they have never had a problem with funding for their team. The teams do hold fundraiser to donate to charity.

Mehl continued to say that women's basketball and women's soccer are up and coming sports with many more athletes now than in previous years and he sees the popularity of both sports growing in the future years.
Another reason why women's sport aren't as popular as most are simply because of the sport they play.
Aubrey Fetters, sophomore at Hood, plays for the tennis team. She does believe that women's sports are unappreciated, but she sees specific teams being unappreciated rather than just women's teams.

"The tennis team has plenty of home matches that barley 10 fans show up to and that includes our three coaches, close friends, family and pets," Fetters said. Fetters say it would be nice to be recognized on campus more than supported by students and fellow athletes.

"I'm not exactly sure why some teams are unappreciated compare to others; maybe it's a lack of interest in that particular sport, a lack of time, or even a lack of school spirit," Fetters said.

Even the sport may be played by women; sports can be appreciated by being recognized for their accomplishments, just as much as any other team by showing support from their fans or school and other athletes. More fans should stop by or attend the game, especially fellow athletes.

"It's obvious that men's sports get a lot more of a fan base at their games, but women sports deserve just as much support while playing. More fans should come out and watch," Lokey says.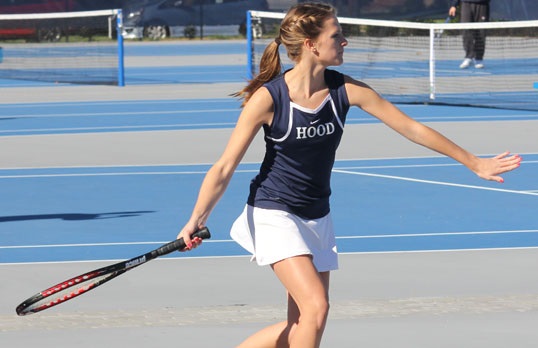 Aubrey Fetters playing tennis