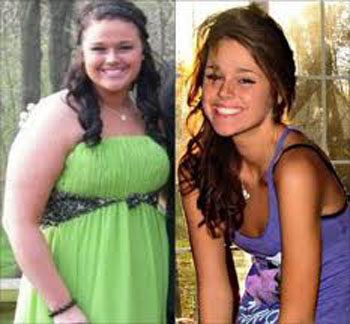 "Weight gain in college is a constant challenge."
I think it is safe to say that almost everyone knows about the freshmen fifth teen. Even those who do not attend college know about the struggle of staying healthy while away at school.

College students lose track of their health and fitness because of the drastic change in schedule from high school into college, the times they eat, and the amount of food and calories they take in now that they are on their own.

Hood College located in Frederick, MD encourages their students to stay active and to make smart eating choices, but many students are no strangers to the dreaded weight gain.

Some have found a way to lose the pounds or maintain their weights from high school, while others just cannot find the time.

Junior, Carissa Ferguson said, "It is difficult to find time to exercise when school work and other activities consume your time and eating healthy is difficult with the food options here at school." Ferguson said her weight seems to fluctuate every year, but she tries to eat healthy and work out when possible.

Some students do not feel they have the time to stay active when their schedule takes up most of their time and energy.

This may be a common issue for most students, but some do find a way to stay fit and healthy.

Junior, Keyana Cooper said, "I actually lost weight since my freshmen year.  I have lost about 25 pounds. I jog at least twice to three times a week, and before I go to bed I do crunches, sit-ups, and stretches." In Cooper's case, school has forced her to stay disciplined when it comes to her health and fitness.

Hood provides a number of physical education courses, athletic sports, and Healthy "U" programs that help the students improve their fitness levels. Some courses named by the students were Zumba, step aerobics, Self-defense, weight training, and basic conditioning. Surprisingly, the students who say the courses helped them are equal to the ones who say it has not.

Cooper has been involved in yoga, step aerobics, and Zumba. "These courses helped her because of the level of intensity, and combined with her outside training she stays fit," Cooper said.

Sophomore, Jamone Davis, said, "My weight training course definitely helped me because I have a legit workout schedule now for toning and building muscle."
Sophomore Maya Jackson was also pleased with the basic conditioning course at Hood.  "I felt extremely fit and in shape," said Jackson.
While some students are satisfied with the physical education courses provided at the school others are finding other ways to shed the pounds.

Senior, Luis Cotto, said he has taken a number of physical education courses, but they have not helped him improve his fitness level. "The fact that I play two sports (basketball and tennis) has helped me more," said Cotto.

Sports are a huge part of the Colleges community and a way to keep students active.
Ferguson and her teammate Bailey Czech play on Hood's Women's lacrosse team and they said, "Playing lacrosse has given us a reason to exercise. Working out after the season is the real challenge."

Czech, a sophomore said, "Lacrosse has improved my fitness level especially during the season with all the practices, but my women's health class did nothing."
Sophomore, Terrell Buyck, is on the Men's Basketball team and he said, "I am a workout machine."
Buyck stays fit by committing himself to a daily workout that consists of pushups, Pull ups, lunges, and playing basketball. He said he has not gained any weight since high school because of his routine, but he did proudly say that he has built muscle since.
College students should not rely only on physical education courses or playing sports to be the only reason why they stay fit. Many resources such as YouTube and exercise tapes such as P90X created by Tony Horton are an option. 

According to livingstrong.org the perfect way to live a fit and healthy life people must have appropriate exercise, nutrition, hydration, rest and recovery.  
If college students took this advice keeping the pounds off would not be a problem.

Buyck said he would tell other college students to go on, "YouTube and search the body part they are trying to improve and workout 3 times a week to begin. Then, they should increase their workout over time."

Basically, the college students who are gaining the pounds should rearrange or place exercise into their daily routine in order for to stay fit or to get fit.
Graduate student, Adam Peterson, has been at Hood for six years and in the past six years he said, "I have gained almost 40-45 pounds over time."

Peterson played soccer for Hood his four years as an undergraduate, but he said he slowly gained his weight from eating poorly, drinking, minimal exercise and just not taking care of himself.

Now as a graduate students Peterson lives off of campus and he says he has lost 15 pounds.  His weekly workout routine consists of lifting weights three times a week and running 1-2 miles 4-5 times a week.

"The lifestyle of a college student is very unorganized and stressful. It was hard for me to pay attention to my health and fitness when so much was going on around me."

There is not one right way to get fit and healthy. Students should try a number of workouts before picking a constant routine to see what they like the best.

Senior, Amber Queen, has been dancing since the age of six. "Dancing has been my main source of exercising. It forces me to build and tone all of the muscles in my body."

Queen will be graduating this fall 2012 and she has gained weight over the past four years, but she does not have any excuses for her weight gain because the school has two gyms and she was, "just being lazy."

Staying healthy and fit may seem strenuous and frustrating when thinking about it, but once the body is use to regular exercise and healthy nutritional foods the body performs with perfection.

College students do face many issues with finding time to work out, having proper food choices, and their amount of determination to stay fit but it is not a good enough reason to be unhealthy.

Being Healthy and fit should be a must for all college students. Students should find the appropriate workout routine for them and their body type and stay consistent.